Show History
2007: A Year to Remember
The year 2007 was one of the most action-packed, high-intensity years for the MJ Morning Show. It was a year of change, a year of firsts, and surely a year to remember.

In the spring, Flunkie strong-armed management in what MJ called a "power play" to increase his salary, but management wanted no part of it. That is when Flunkie picked up and left the show after spending over 15 months as MJ's audio guy. For the first time in almost four years, "Rear of the Year" returned to the show as listeners sent in photos of their rears and everyone got to vote on them online. Both a male and a female winner were named, and they received big-screen TV's along with cash just for having attractive butts.

Three new affiliate stations began syndicating the show in 2007 as well. Stations in Florida that broadcast to the Space Coast (Melbourne), the Treasure Coast (SE Florida), and Punta Gorda (SW Florida) now carry the show every morning. That gives the show six different radio stations on which you can hear the show, in addition to its live online streaming.

In the summer, MJ actually walked out during the show for the first time in many years after a dispute with management. He was going to give away copies of the final "Harry Potter" book to listeners, but Scholastic threatened legal action against the station, forcing management to put a kibosh on MJ's plan. MJ said, "I quit" and left the studio, leaving listeners hanging for over a half-hour, wondering if the MJ Morning Show was history. He did return to the studio once he collected his thoughts and regained his composure. It took some time for him to get over the anger, but it seems like he still has an issue with management to this day over this issue and many others that have occurred in the past.
In the fall, MJ rolled out several more contests like "Mangle Mouth" and "Jingle Jugs." The "Hannah Monstrosity Hang-on," which lasted nearly one week, probably garnered the most media attention the show has ever received. He capped off the year with "Kiss MJ's Butt for a Wii" in which five lucky listeners smooched his rear via e-mail to each win a Nintendo Wii. The fall months also saw MJ partake in two events that he will likely remember for the rest of his life. He went up on a flight with the Blue Angels and got to experience what it feels like to fly faster than the speed of sound. In addition, MJ got an extremely rare opportunity to visit the White House in Washington, D.C., and he even took a peek at the Oval (Oral as he claims) Office. Ryan Seacrust walked out in November, and Meredith became the show's first-ever audio girl as she moved from her role as the show's Jacksonville producer to the studio with MJ in Tampa.
The year ended with a bang - literally - as a 40-foot city bus was lowered from a crane and smashed the 12-foot Hannah Monstrosity statue to pieces. Fester was the only show member to cover the event live outside in a junkyard, while the rest of the crew watched the destruction in the studio via streaming video.
So after all of that, one has to wonder how MJ and the gang can possibly top 2007 with what they do in 2008. There are also some question marks lingering about the show's future. MJ's contract with Clear Channel expires on August 31 of next year. He said on the final show of 2007 that there is a possibility he will seriously explore options in other markets around the country. All of his problems with management at the station might contribute to his decision to move the show elsewhere if he gets some good offers from other companies. Whether this would mean the show would move to another city is yet to be determined. It's also unlikely that everyone on the show would go with MJ because of the obvious difficulty for five or six people to pick up and move elsewhere. This is all complete speculation, but it wouldn't surprise me at all if MJ decides to jump ship for another company after he fulfills the remaining eight months of his current contract.
An MJ Morning Show Classic Video
Watch the ListenUp! spoof commercial, featuring several members of the MJ Morning Show and a few interns using the hearing device. Who is that guy with the red stripe in his hair?
MJ and Michelle are rear-ended by drunk driver
When responsible people go out on the town to a bar or restaurant knowing that they will indulge in some alcohol, they usually have a designated driver to take them, or they will take a cab. MJ and Michelle opted for the second option when they recently went out to dinner with friends at Bern's Steakhouse in Tampa. The cab took them to the restaurant with no issues. But it was on the way home when something went wrong. A 52-year-old woman who was drunk rear-ended the cab in which they were passengers at a stoplight. When cops arrived on the scene to check the woman out, she blew a 0.067, which is under the legal limit of 0.08 but is still a significant number for any person behind the wheel of a vehicle. She was also talking on a cell phone right before the accident. Just when MJ and his wife are trying to protect themselves from any potential problems on the road, the decision they made ended up costing them the hassle of having to deal with a drunk driver. Other than sore necks, they were not injured.
Meredith becomes first audio girl on the show
The revolving door of morning show members who are responsible for playing audio and sound effects continues to swing around. Ryan Seacrust recently dropped everything and abruptly left the show a few weeks ago after spending just over four months as MJ's audio guy. The position he vacated has now been filled. Former Jacksonville producer Meredith is now a full-time member of the MJ Morning Show. She previously worked at 97.9 Kiss FM as the on-site producer to help syndicate the show every morning. She was also a night-time DJ and was the only female working on-air at that station before taking the job in MJ's studio. All males have filled the position that Meredith now has. Former members with her new job include: Froggy 1, Froggy 2, Ryan, Lunchbox, Flunkie, and Seacrust. Let's hope Meredith will be a nice addition to the show and a female voice of reason for certain topics. Jabberjaw and Kristi the Apprentice have worked on the show off and on, but Meredith is really the first full-time female member to have a major position on the show. She said she was born in New Jersey but moved to Miami as a baby. Since then, she's lived in Jacksonville and St. Augustine. Once she officially moves over, Tampa will be her new home.
SEACRUST...OUT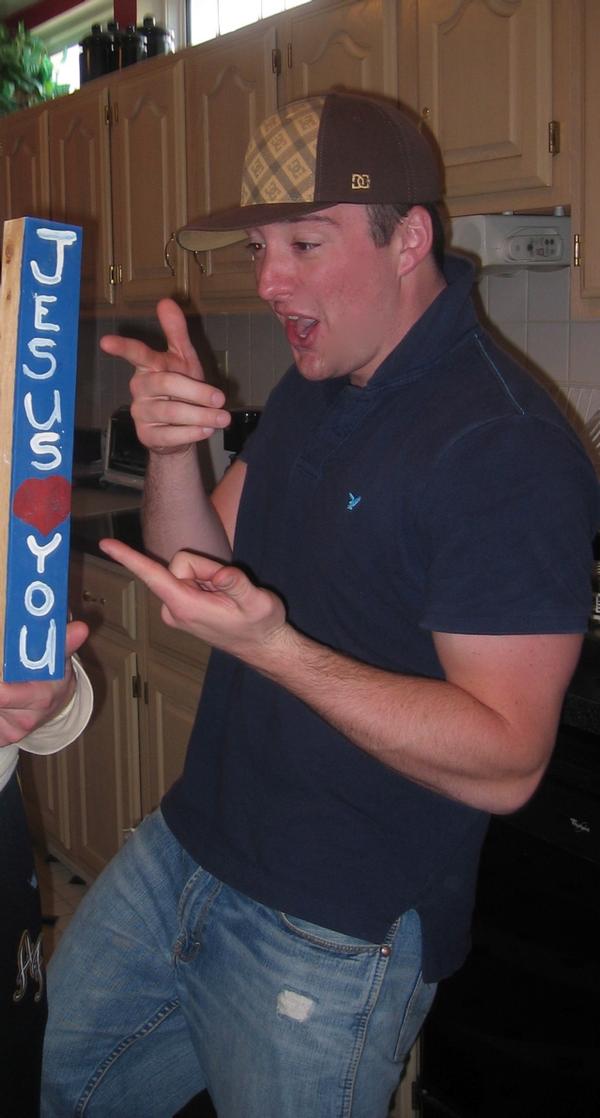 Ryan Seacrust is no longer a member of the MJ Morning Show. He quit the show before it went on the air the morning of Friday, November 2nd. Apparently he came to Joey B, Hurricane, and Jabberjaw before 5 AM to let them all know that he was quitting because he didn't feel respected by anyone on the show. Ryan joined the show in June, coming from Philadelphia where he worked at Q102 FM. Joey B and Flunkie also worked at that station. MJ originally called him "Germ" but eventually settled on "Ryan Seacrust" and occasionally referred to him as "Seacrap" if he was angry with him. He obviously got this name from the American Idol host. Ryan took over Flunkie's job and played all the audio and sound effects on the show. He also is very adept at video editing and publishing video to the Web, which is something he also did with morning show videos. His most memorable bit on the show was when he did the "Hot Sauce 2 Go" experiment where he would use vulgar words to ask for large amounts of hot sauce at various Taco Bell restaurants. You can see that video here.
At this point, MJ has not hired anyone to fill the position that Seacrust abruptly vacated. Hurricane, Jabberjaw, and Froggy are all switching off on the "sound effects island" until MJ decides on a permanent replacement.
There has been some chatter on the FORUM about Flunkie coming back. But here is a message he wrote about that possibility:
Hey gang it's Flunkie. One of my peeps on myspace told me there was a chat on here about me. A lot of people have been talking to me asking about a return to the show. So I just wanted to reply to this whole idea about a comeback. First of all, all you guys on here rock! I love all the support and love I get from you guys. Secondly let me address Seacrust. He's a good guy and I know what he has been going through. This position is not as easy as many people think it is. ryan is actually a vary talented radio professional and did his best at the postition. This position is not for just anyone and there is a lot to it that most don't see. I wish him the best. Finally about a come back. Right now I'm kind of like Al Gore. I haven't expressed an interest in the position and I haven't been asked to fill the position. At least not by MJ. Joey B did ask me to help the show and fill in for a few days. I agreed to help Joey because he is a good friend. MJ declined the assistance though. I left the show for a reason. I was not happy. I was not happy mostly with management! There were a number of other factors but I'll leave it at that. I am very happy were I'm at now. I will be opening up a night club soon her in Tampa! Be on the look out for that. I'm not going to rule an eventual come back but right now there aren't any plans on either side. Oh and I'll let you in on something else that I saw darla brought up. Yes I did put in my two weeks notice. Later that day I was fired for quiting. So yes I did quit and yes MJ did fire me. So anyway thanks again to all of you. Even the haters because you keep the name alive :) If you would like to contact me you can do so at www.myspace.com/flunkiemjmorningshow or flunkie933@yahoo.com

peace
Tommy
When is the show going nationwide?
MJ mentioned several months ago that the morning show would be going up nationwide on one of XM Satellite Radio's channels. He said everything was ready to go, but that the people at XM were experiencing technical problems getting the new channel up and running. Thanks to Corey, an e-mailer, for finding out some info about this. According to a program director at XM, the MJ Morning Show is expected to be added to one of XM's talk channels some time in November. It will not air live and instead will be a few hours delayed during a midday time slot (I'm guessing this means 11 am - 3 pm ET). This means that you will be able to hear the show wherever you live in the United States, as long as you have XM. The satellite radio company also streams many of its channels online. For more info on XM, check out www.xmradio.com. This does NOT mean that the show will be going off any of its current affiliate stations. It is basically like adding another affiliate that will be available nationwide to XM subscribers.
Joey B and Froggy collaborate on "Wasted Life"
Now that the days of selling Crotchety Old Man CD's are over, other morning show members have their sights set on selling their own CD's. Since Froggy came back to the show just over a year ago, he has rolled out numerous "bands" and attempts and bands, such as The Frogawogs and Frogatronica. Because he has come up with a handful of different names for his various styles of music, he decided to create his own record label called Froggy Records (www.froggyrecords.com). He had Fester (aka. Dandruff Dan) help him out with one of the songs on his Frogawogs CD, which has been on sale for a few months now. Most recently, Froggy signed Joey B to his record label and had him record a few songs. Those songs are part of the new "Wasted Life" CD, which is basically about how Joey has wasted much of his life away by being careless, drinking too much, and doing things that other guys his age probably don't do, like trying to buy SpongeBob Squarepants sheets for his king-size bed. The CD contains five tracks and retails for just $6, which is more than what Apple's iTunes Music Store charges per track (99 cents per track). Melissa (aka. Gigantor) the Intern has already sold several copies of the CD's in the radio station parking lot, but it is available by mail if you want to order a copy. Order it by sending the money to: The MJ Morning Show, 4002 Gandy Boulevard, Tampa, FL 33611, Attn: Wasted Life - Froggy / Joey B
Joey B was passed out on the couch in the morning show "green room" on Monday morning. He apparently took a huge dose of Ambien CR, a sleeping aid, the night before to try and help him get some sleep. But instead of achieving its desired effect where he could awaken after several hours of sleep, the medicine completely turned him into a zombie! He sounded drunk and, according to Froggy, like he was "on acid" when they stuck a microphone in front of his face to talk to him. Listen to the audio of how awful he sounded.
On Monday, August 20th, Chloe is six years old. Happy birthday, Chloe! It has been amazing to hear her literally grow up on the show over the years. From segments like "Make the Baby Talk" to hearing her ask questions that most little kids are curious to know the answers to, Chloe has become a member of the show. Whenever MJ calls Michelle, she usually wants to talk to her daddy. This year, she is starting elementary school as a Kindergarten student. Hopefully we'll hear her on the show many more times and listen to her grow up even more as time goes on. I never imagined MJ as a father before he and Michelle had Chloe, but from what I've heard, having kids was the best thing he could have done.
Does Joey B from the show actually have his own restaurant? That is what I thought when I was recently in town, but even though It might appear that way, it is actually a place that he has nothing to do with at all. Laclede's Landing is an area of St. Louis with cobblestone streets and old warehouses converted into restaurants, nighclubs, and offices. This is where Joey B's On the Landing - a local pub known for its burgers, wings, pizza, and more - is located. The address is 710 North Second Street. And I'm sure they have plenty of beer on the menu, which Joey B would be happy about!
Frogatronica - "Lindsay's Gonna Die"
Listen to the new song that Froggy wrote and recorded about how Lindsay Lohan may be on the brink of death because of her latest arrest involving both DUI and drug possession.
Harry Potter casts a spell on MJ; he says "I quit"
The morning of Friday, July 20th was probably the most emotional morning that MJ has experienced since he started doing the morning show more than 13 years ago. It all stemmed from ten of the latest Harry Potter books that he was able to get his hands on earlier in the week. MJ legally obtained the books and planned to give them away to listeners, which is something he's done in the past with Harry Potter books. He planned to have them overnighted to ten winners so that they'd receive them on Saturday morning, after the book was officially released. However, his plan was completely nixed when Clear Channel management caved in and turned the books over to a Scholastic representative who came to the radio station and demanded that the books be given to him. With an accumulation of issues that MJ has had with management at the station over the years, particularly in the last few months, this was the straw the broke the camel's back.

On Thursday, MJ was too distraught to do The Schnitt Show in the afternoon. He instead tried to relax, sleep, and put his cell phone in the trunk of his car all day in order to avoid any calls from management or lawyers who might be involved. He was able to muster up enough energy to host the MJ Morning Show on Friday morning. The only reason he did so was for the listeners in order to explain what happened and not leave everyone hanging.
At 7:45 AM on Friday, MJ made a somewhat abrupt announcement that he would quit and retire from the morning show. He said it was no longer fun to do because of the way management treated him. He then said "Goodbye" to the listeners, threw his headphones down on the console, and walked out. The rest of the crew took over the show for about a half-hour, during which MJ was out in his car on the phone with Michelle. They took calls from listeners who reacted to what had just unfolded unexpectedly. MJ then returned to the studio at about 8:15 AM and was very emotional. His voice cracked several times, and Fester had to take over when MJ couldn't speak because of what sounded like tears running down his face. He primarily attributed that to the conversation he had with his wife and not about the whole situation with management. Listeners then called in for over an hour, offering kind words of support and pleading for MJ to stay on the air and continue to do the show. He still says that he is "in limbo" about what to do and isn't quite sure if he will continue to host the show.
On Friday afternoon, MJ did host his afternoon show and sounded like he was in a better mood. During the second hour, he took just a few minutes to briefly touch on the Harry Potter situation. He then moved on to other newsworthy topics that he felt were more important to discuss.
Discuss the situation with other listeners on the forum.
***AUDIO FROM THE SHOW***

- MJ announces that he is quitting the show

- MJ returns to the studio after 30 minutes off the air
The "I Like Turtles" Remix
Jabberjaw interviewed comedian Carlos Mencia and had some major technical problems with the interview. Luckily we were still able to hear Carlos' voice. Here is a clip from the interview gone bad along with a classic sound byte from the show:
- Carlos does an ID for the show
- Carlos says "Dun duh dun" (one of Flunkie's favorite and only sound effects)
Is Thomas the Train in love with Sanjay Gupta? Well, not literally. But it might be another story for members of the MJ Morning Show with those two nicknames. A bunch of interns from the show were recently at Banana Joe's, a bar in the Tampa area. After a night of drinking, they were all saying goodbye to each other when something wild happened. Thomas grabbed Sanjay Gupta's (real name Dustin) head and planted a nice big kiss on his lips. Thomas revealed on the show a few weeks ago that he is gay, so there might be something steamy going on between the two. Jabberjaw and the other female interns were blown away and even a little jealous of the smooch. Sanjay claims that he is straight, that he had a girlfriend for a long time, and that the alcohol made him go off the track for just a split-second with Thomas that one night. But this incident has to make you wonder just a little.
Rachel and Joey B now have the same job
It might be hard to believe, but it's true that Rachel the Flying Tomato and Joey B now have the same job. They are both executive producers of two different morning shows. Joey B is obviously the executive producer (and sometimes reducer) of the MJ Morning Show. But Rachel now has a new gig as the executive producer of the Nancy & Jeff Morning Show, which airs in Tampa on Mix 100.7, WMTX-FM. Kristen the Intern of American Idol fame also served as the executive producer of this show. The station is in the same Clear Channel complex where MJ and crew do their show every morning. Nancy Alexander, who used to be a feature reporter for FOX 13 and now does some TV work for Bay News 9, is the main host of the show. She and MJ have "competed" on the airwaves in Tampa for over ten years now, but it looks like MJ has the upper hand on her. Rachel is one of many former interns to be groomed by MJ and to flock to another radio show. Justin the Intern got his start at the MJ Morning Show and is now the executive producer of the Ron & Ian Show on 620 WDAE-AM. Lamosa the Intern, who now goes by Suge Avery on the air, did the same when she went to 95.7 The Beat to join the Olivia Fox Morning Show. Froggy 1 also started out as an intern with MJ and moved down to Miami where he has been a producer for the Y100 FM morning show for five years.
I wish Rachel all the best and hope that she is able to succeed in whatever path she decides to take, whether it be in radio or in something else. I will miss her reality reviews and her upbeat presence on the show for nearly four years.
Britney Spears is angry about MJ's billboards
Several months ago, MJ worked with Clear Channel to launch a series of billboards that promote the MJ Morning Show. They have been up in both the Tampa Bay area as well as in Jacksonville, Florida. There are three different billboards that have a photo of Britney Spears with a crazy expression on her face and a bald head after she shaved off all her hair and went nuts. To the right of it is MJ making goofy and ridiculous faces to imitate Britney. Apparently she found out about the billboards and is pretty upset about them. Her attorney represents Lavely & Singer, which is the same law firm that also threatened legal action against MJ and the radio station regarding a photoshopped picture of Catherine Zeta-Jones that Hurricane posted on the website. This same law firm has issued a threat to Clear Channel and MJ's station to have all the billboards taken down because Britney is unhappy with how she is portrayed in them. All of them were removed, and MJ isn't too pleased with the way Clear Channel folded.
This is the second time in just the last few weeks that the MJ Morning Show and Britney Spears have had issues. Jabberjaw was thrown out of one of her recent concerts in Orlando for trying to take pictures and video of her "performing" onstage.
Click here to read the story about the legal threat against MJ.
Frogatronica - "Four Whores of Hollywood"
Listen to the song that Froggy recorded about Hollywood's four whores as part of his new "Frogatronica" collection. Decide for yourself if it's too inappropriate for young kids to hear.
My thoughts on one of the
"Pick Your Plastic" winners...
One of the winners in MJ's plastic surgery contest submitted an entry for breast augmentation. The rules for the contest state that you can send in any kind of story, real or fake, as long as it doesn't exceed 500 words. She chose to write about how her mother battled breast cancer for many years and ultimately lost the battle to it. She then went on to say that she does some charity work with organizations that raise funds for breast cancer research. In the story, she said that the main reason she wants augmentation is to prove to everyone that she has not had a mastectomy and that it was her mother who did. The story was very well-written and believable, but when MJ called her up to let her know that she had won, he found out that it was a completely fabricated story. Because it was a legitimate entry and she followed the rules, she will win the plastic surgery. My problem with it is that she played on an emotional story (that probably touched many listeners when they heard it) just so she could win a contest. I personally feel that the winner should donate some money to a charity that is affiliated with breast cancer research. You just can't go around making up stories like that. It obviously caught the judges' attention, which is everyone's goal in this contest, but I don't think fake sob stories are the way to go at all. I thought it was great when one of the winners happened to be a woman who witnessed a shooting in a store in St. Petersburg a few years ago. She had suffered from severe depression and gained some weight, which is why she wanted liposuction. That was the best giveaway and the most deserving person to win this contest, but I think this other lady might be the least deserving of any winner they've had.
"Germ" / "Seacrust" hired to replace Flunkie on the show
The job on the MJ Morning Show that involves running the audio and sound effects, formerly held by Froggy 2, has been a revolving door of crew members over the last two years. After Froggy left, Ryan, Lunchbox, and Flunkie had the gig. When Flunkie strong-armed management for more money and walked out when he was told "no" in March, Froggy 2 was back in the seat. MJ then auditioned other possible replacements for the job, including Froggy's fellow band member Big Lou. He finally setlled on a guy who he has already nicknamed "Germ" on the show. His real name is Ryan Chowansky, and he previously worked at Q102 FM in Philadelphia - also where Joey B and Flunkie worked before coming to Tampa. Another ironic thing is that this is the third Ryan who has had the job, since Lunchbox's real name is also Ryan. All we really know about "Germ" is that he was pulled over twice for speeding and also had a warrant out for his arrest. We'll have to see how he fits in and if he'll bring more to the table than what Flunkie did. He already isn't happy with his nickname, so it should be interesting to see what happens with him. Click here to see the audition video that "Germ" taped before he got the job. He mentions something about how he hopes none of the current crew members are on a low-carb diet. What could that be about?
UPDATE: It looks like MJ has setlled on the name "Seacrust" for Ryan - a play on Ryan Seacrest.
"Pick Your Plastic" Jingles
(Courtesy of Monster Mix Productions)

- Buttons

- Candyman

Jabberjaw participated in three editions of "Froggy's Bag of Intrigue" in which she sticks her hand into a mystery bag while blindfolded, not knowing what's inside. You can listen to what happened and find out what was in each of the bags:

- Froggy's Bag of Intrigue #1

MJ recently talked about how helmet boxing is the latest craze among kids and teenagers. Froggy asked MJ if he would helmet-box him in the parking lot. So the question is: who do you think would win if the two battled it out? Is MJ short but sronger and in better physical shape than Froggy? Or would Froggy take care of business and have MJ on the ground like a girl in no time? You decide.

Oops! Jabberjaw gets kicked out of Britney concert

Britney Spears is trying to make a comeback in her career. After all of the well-publicized incidents over the last year or two, her image has gone downhill, so she's hoping to regain some of the pop star power she once had. Jabberjaw and Thomas the Train attended Britney's concert in Orlando at the House of Blues on Saturday night, along with four other MJ Morning Show listeners who won tickets on the show. MJ sent them in hopes of getting some secret photos of Britney "performing" onstage. Her dancing was apparently decent, but the CD she was lip-synching to skipped, revealing that she wasn't actually singing at all. The real drama came when someone noticed Jabberjaw holding up her camera phone and snapping pictures. That is when she was yanked out of the crowd by her jaw (or maybe it was her hair), and she was thrown out of the concert. Security personnel patted people down and wanded people as they entered the concert in order to weed out anyone with any kind of camera, but Jab was smart and concealed her mom's cell phone, along with Thomas's phone, deep inside her boots. She only missed a few minutes of Britney's performance, but it only lasted about 15 minutes total, so it wasn't much of a performance after all. Jab thought she was going to be arrested. They made her delete most of the photos, but she managed to save a few.

Jabberjaw now has bruises on her arm because of being manhandled and dragged out of the club. She plans to file charges against the House of Blues because of the way she was treated.

Legally Blind Mike's HSN Audition Tape


How many different ways can MJ say "6:02" when he opens the show every morning? Click here to find out.

MJ & BJ on "The Jenny Jones Show"

MJ & BJ appeared on "The Jenny Jones Show" in 1999 after being voted on by listeners who nominated their favorite local DJ team. Play close attention to when MJ grabs Jenny's microphone, takes over the show, and brings out a "special guest" from backstage.

(Note: Volume is low on the video, so turn up your PC's volume
and speakers for the best possible sound)

Tragedy strikes Rachel's family as her mother is killed

Rachel the Flying Tomato suffered a major loss in her family on Monday afternoon. Her mother was killed in an awful car accident. She was driving with her mother in the passenger seat, and they were headed to pick up her car from an auto body shop after having some lunch at a Sweet Tomatoes restaurant in Palm Harbor. The car's bumper locked up with another car to the left, and their car went over the median and into a lane of oncoming traffic. The passenger side was facing the cars coming from right to left, and that is when a car smashed into theirs and nearly totaled it. A Bayflight helicopter brought her mother to the hospital, but they were unable to revive her. Rachel suffered a broken hand and other minor injuries, but she was relatively unhurt since she was not in the exact line of fire from oncoming traffic like her mother was. Her mother, Patricia, was 57.

Rachel was very close to her mother. She even made special breakfasts for Rachel to take in to the studio with her almost every morning, even though she is a grown woman. She mentioned her mom many times on the show and obviously cared about her greatly. They watched TV together almost every night and were like best friends. Rachel is 23 years old and has always lived at home, once again demonstrating how much she loves both of her parents. Rachel also has a younger brother, Michael, and a father, Paul. Our thoughts and prayers go out to Rachel and her family during this terrible time in her life.

If you would like to leave your condolences for Rachel and her family, please visit the MJ Morning Show Forum and look for the thread titled "Rachel's Mother," which Jabberjaw has posted in as well. You can also check out her Myspace profile by going here. If you are or become one her friends on there, I'm sure she wouldn't mind hearing some thoughts from you about this tragedy. It is a horrific situation, and I strongly hope that Rachel will be able to pull through it as best as she can.

Here is the story from the St. Petersburg Times:

Passenger dies in three-vehicle wreck

PALM HARBOR - A three-vehicle accident about 1 p.m. Monday claimed the life of a 57-year-old woman, injured her daughter and stalled traffic for about an hour at U.S. 19 and Tampa Road, authorities said. Patricia Pitts died after the 2001 Honda her daughter Rachel was driving south on U.S. 19 hit another car while trying to change lanes, according to the Florida Highway Patrol and Palm Harbor Fire Rescue. Rachel E. Pitts, 23, of Tampa was taken to St. Joseph's Hospital in Tampa, where she is listed in good condition, said a hospital spokesman.

Congratulations to our winner:

Ashley Wauters of Palm Harbor, FL

She is the winner of $100 from the show plus a $15 Amazon.com Gift Certificate.

Thanks to everyone who entered the contest, and again, congratulations Ashley!

I plan to do another trivia challenge or similar contest in the next few months, so check back for more details on when the next contest will be.




ROUND 4 QUESTIONS:

1. Although MJ doesn't stand for anything, BJ did. What did BJ stand for? Barry Joe

2. What is the warning label's exact quote on the bottle of lysol cleaner that Milton's son used in the Crotchety call about Chauncey doing a science project? "Do not mix with other household chemicals such as products containing ammonia, toilet bowl cleaners, or acidic cleaners as hazardous gases may be released."

3. In the spoof video of Kristen the Intern's American Idol appearance, what job does the man who played Randy have at the radio station? Engineer

4. What company does Milton call in the exercise bike Crotchety call? Exercise World

5. Jabberjaw made a brief appearance on which Fox News Channel show that has since been cancelled? Dayside


ROUND 3 QUESTIONS & ANSWERS:

1. Joey B has a friend named Drew Carey because of his resemblance to the TV personality. What is his friend's real first name? Sean

2. Dr. Childers, who MJ has worked with in the past, is what kind of doctor? Dentist

3. In the Tickle Me Elmo-Wood Crotchety call, what is the final Christmas gift that Milton asks the toy store representative for to see if they have any left? Nintendo 64 game

4. Hoover's uncle works as a broadcaster for which NFL team? New Orleans Saints

5. In the EmineMJ song, what does MJ say caused him to be "so screwed up"? "My nanny used to whack me with a spatula"

6. In the Hearing Aid Crotchety call, Milton makes an appointment to see a hearing aid specialist for what time? 10:00 PM

7. Who was the show's audio/sound effects producer right before Flunkie joined the show? Lunchbox


ROUND 2 QUESTIONS & ANSWERS:

1. What is Joey B's favorite NHL team? New Jersey Devils

2. In what year did Hoover replace Joey B as the show's executive producer? 2001

3. MJ threw out the first pitch at a Tampa Bay Devil Rays game in 2005. Which team were the Devil Rays playing that day? St. Louis Cardinals

4. On which game show was MJ a contestant? Hollywood Squares

5. "Blimp & Shrimp Moving" was a company owned by which two morning show members? Fester and Dave the Dwarf

6. Tony Soprano was one of the characters on the show a few years ago. What was his former occupation? New York City police officer/detective

7. In the Crotchety Old Man calls, Milton Fludgecow has a son named Chauncey and, on a rare occasion, mentions having a daughter. What is her name? Estelle

8. What was the real name of "The Lawsuit Man"? Robert Parker

9. For the first "Friday Fall Concert Series," Froggy did his stunt in the studio. What stunt was it? Jumping through a table and breaking it in half

10. Perez Hilton, who appeared on the show several times, had his own theme song. What was the name of the song? "It's Raining Men"



I'd also like to mention that almost everyone who participated in the first round answered most of the questions correctly. I did not expect so many people to do so well, so congratulations to everyone, and thanks for entering! You can now check your answers below:


ROUND 1 QUESTIONS & ANSWERS:

1. What was the name of the girl who MJ made dupe Flunkie into thinking that she was single, but she was actually married? Rebecca or Rebekah

2. What are the names of MJ and Michelle's two children? Chloe and Julian

3. MJ's son was born on a holiday. Which holiday was it? Fourth of July (Independence Day)

4. What was Jabberjaw's real name? Kim

5. What is the name of Froggy's wife? Kim

6. MJ and Michelle have two dogs. What breed are they? Jack Russell Terriers

7. In August 2006, the MJ Morning Show was about to go off the air on one of its affiliate stations, but luckily stayed on after a contract extension was signed. In what city was this? Jacksonville, Florida

8. "Dandruff Dan" is a Frogawogs character based on which member of the morning show? Fester

9. Fester and his wife own an establishment in Tampa called Planet Beach. What kind of place is it? A tanning salon

10. Why is Rachel's nickname "The Flying Tomato"? She has red hair

11. Before coming to Tampa, MJ hosted a morning show for about a year in 1993 in what Florida city? West Palm Beach, Florida

12. In 2006, MJ vehemently urged Hurricane to stop using and get rid of something he owned. What was it? A motorcycle

13. How much reward money did MJ give to Mitchell Hults, the hero in the Ben Ownby/Shawn Hornbeck case in Missouri? $1,000

14. What is the Hiccup Chick's name? (spelled correctly) Jennifer Mee

15. What is MJ's middle name (Todd ___ Schnitt)? Andrew

16. Joey B and Flunkie worked together in Philadelphia prior to joining the show in 2006. Which station did they work at? Q102 FM

17. Joey B, Hurricane, and MJ were all born in what year? 1966

18. Which 2002 contest on the show involved fixing listeners' teeth? Mangle Mouth

19. Nando the Intern said he was peed on by a handicapped man in a bathroom. At what kind of place did the incident occur? A movie theater

20. MJ used to be on the air on 105.3 WMAX. In what city was this station? Atlanta, Georgia .
Check out 933flzlive.com! Download the program they have on there, and you can listen to 93.3 FLZ and the MJ Morning Show live on your desktop. You can also use it along with Total Recorder to record all four hours of the show, save it as an audio file on your computer, and listen to the show any time!
Honoring MJ the Hero
MJ has done so many things in his life to be considered a hero. Here is a video from Andy (aka. Pub Rat Boy) in which Fester, MJ and Froggy sing about how the veteran radio broadcaster is "walking on air" and celebrating his super hero status:
"Hammer Time" with Monica the Crazy 911 Lady
The truth is revealed: Nando is a liar
When MJ promotes new intern openings on his show, he always makes it clear that he wants people with interesting stories who could really add something to the program, whether it be funny or serious. What he doesn't want is an intern who makes up every story he tells on the air, especially one about how his girlfriend was killed in a drunk driving accident. That is exactly what happened with Nando the Intern. Almost every week, the guy had a new chapter to unravel in what seemed like a crazy life. He talked about saving an elderly woman's life at the Cracker Barrel where he works. He mentioned a run-in with a mentally challenged man in a movie theater bathroom. He even claimed to have witnessed two employees at a department store smoking cocaine off the toilet seat in the bathroom. MJ wanted to nickname him Sanjay Gupta (a doctor on CNN), but Pathological Liar would have been more appropriate. Nando is no longer on the show after it was discovered that his DUI story was made up. MJ and the crew still can't believe that they were duped by this guy. His final story sounded so real as he tried to stop himself from breaking down while telling it on the air. Unfortunately the guy has more problems than what the crew can deal with, and hopefully he will get some help before his fibs start pushing the envelope even further than the damage he has already done.

Flunkie leaves the show in search of more money

Money is one of the most powerful forces in the world. As an example of this, it drove Flunkie away from the MJ Morning Show this week. He had a meeting with management in which he told them that he wanted a raise. Working 14 hours a day on the morning show and then with side jobs like working as a strip club DJ and mobile DJ for events, he just wasn't making enough money to stop his mounting debt from getting worse. This is why he chose to leave the show. He ran the audio and sound effects on the MJ Morning Show from January 2006 to March 2007 - a job that Lunchbox, Ryan, and Froggy 2 once had. Even though MJ didn't seem too fond of him, Flunkie made a name for himself with a reputation of a guy who just can't get a date, is overweight, and is in severe debt. Last summer, he sent in an audition tape to be on Deal or No Deal, but he never received a call back from the producers. Maybe if he had made it on there and scored some big money in a briefcase, he'd still be on the show today. He also posed as Yuri, a Russian guy, on Myspace and planned on posing as a member of the military in order to get women. Luckily, he chose not to after realizing that it is against the law to impersonate a military member.
MJ is saying that there is a job opening to replace Flunkie, even though Froggy had the same gig for about three years from 2002-2005. I feel that they should keep the show as-is right now instead of bringing in someone else. Froggy should get his old job back, but maybe he has fewer responsibilities in his contract since he came back to the show. Also, it obviously shows that Flunkie was not as important to the show because Fester demanded a raise last year and must've gotten it (although this was never revealed on-air). He actually threatened to leave the show if he didn't get more money. But for Flunkie, the money wasn't on his side, so he decided to walk.
Thanks to Flunkie for his support of this site and the forum. I wish him well and hope he'll succeed in whatever he does in addition to being able to pay off his huge debt at some point in the future.

Melbourne station picks up the MJ Morning Show

In radio, a format change to a station generally means more changes to the station than just the genre of music it plays will take place. That holds true for WBVD - a station in Melbourne, Florida formerly known as "95.1 The Beat." Now "KISS 95.1", the station began syndicating the MJ Morning Show on Monday, March 19 to the east coast of the state. This is the fourth affiliate station on which the show is heard and the third in Florida. Another station in the Sunshine State, most likely in the Fort Myers/Punta Gorda area, will also be added to the MJ Radio Network in the next two weeks. That will give the show five total affiliates (including the flagship station in Tampa) and will be the first time since 2004 that the show will be heard on five different radio stations. The show previously aired in Ft. Myers from 1999-2001 on 100.1 Kiss FM, but it was dropped when the station changed formats.

The Crazy Voicemail Lady!

Download the audio of the voicemail.

Nando unknowingly punches a mentally challenged man

Nando the Intern (whose full name is Fernando) has been relatively quiet in the first 2 months of his internship on the MJ Morning Show. However, once he was given a primetime spot on the show to talk earler this week, the words that came out of his mouth were shocking. He was at a movie theater with his girlfriend and went to use the bathroom. While using a urinal, a man walked in and used the one right next to him. Shortly thereafter, while the man was giggling, he turned toward Nando and started peeing all over his shoes. This is when Nando got angry and punched the man, knocking him to the ground. He did not realize that the man was mentally challenged and could not help himself. He found this out when he told his companion/helper outside the bathroom about what had happened in there. The question is whether or not Nando should be blamed for doing something wrong. One side of the argument is that he did not know that the man had a mental handicap. You could also say that nobody should punch anyone else in the first place over something like this, regardless of their mental capacity. Another way to look at it is from the perspective that he should have had some inkling that the man was handicapped because of the way he acted. Listeners have responded with varying opinions, with many relatives of mentally challenged people being upset with the word "retarded" and if it is a politically correct term that Nando used when he told the story.

Besides this debacle, Nando has brought up two other stories on the air. At a Cracker Barrel restaurant where he works, he saved an elderly woman's life by performing the Heimlich maneuver on her. The piece of chicken she was choking on flew out of her mouth and smacked a guy in the face who was sitting at the next table. He also admitted on-air that he wants to get a vasectamy, which is a little odd for a 22-year-old guy to have done.

NOTE: The above stories are most likely false and were fabricated by Nando the Intern.

Kidney stones add to Froggy's health troubles

Froggy passed one large and several small kidney stones on last week during the morning show. He was writhing in pain on the floor, so he went to the bathroom and did his duty. He then brought the stones into the studio and showed them to MJ, who immediately identified them as kidney stones. Froggy left the show and went to see a doctor, and he initially thought he was faking that he had kidney stones when he pulled them out of a paper cup covered in foil. Froggy talked to his dad and found out that the painful stones are hereditary and run in his family. MJ has dubbed Froggy a "medical disaster" because of the many medical problems he has experienced at such a young age. He has a severe case of IBS that makes him leave the studio for several minutes at different times throughout the show. He has also complained of having pain in his hip and back. Just a few weeks ago, he tripped and bashed his head onto the side of his kitchen counter, which caused him to throw up in the shower and miss the show that morning. It makes you wonder if Clear Channel is shelling out extra medical insurance coverage for him.

"Oh thank God you've answered!"

The Hearing Aid Crotchety

Yes, Milton Fludgecow has now hit YouTube with one of his classic Crotchety Old Man calls. In this one, Milton calls a hearing aid place to complain about a noise he's hearing in his head while wearing his hearing aids. The people on the other end get pretty fed up with him not being able to hear them, and he eventually starts hearing words that are close to, but not quite, the ones they are saying. He inadvertantly schedules an appointment for 10:00 PM - long after the store closes. Special thanks to Andy aka. Pub Rat Boy for making this hilarious video of a classic Crotchety call.

Froggy Singing "Where Do You Hide Your Horns?"

This classic song about MJ is now in a South Park-style video!

Also, you can download the entire song that Froggy performed live on the show
for his fall concert by clicking here.


Happy 13th Birthday to the MJ Morning Show!

Feb. 7, 1994 - Feb. 7, 2007
The MJ Morning Show has just become a teenager. The show has been on the air for 13 years in two different incarnations: the MJ & BJ Morning Show (1994-2001) and the MJ Morning Show (2001-present).
MJ's recent targets: Froggy and Joel Osteen
Recently, MJ has been bashing two people - a member of the morning show and a televangelist.
Froggy has been producing several songs for his Frogawogs kids group, which is supposed to eclipse the success of The Wiggles. He has played these songs on the show over the last few weeks, but MJ has criticized each and every one of them, saying that the melody is bad, the lyrics don't go with the rhythm, etc. The songs are designed to be funny and entertaining, so why does MJ have to bash Froggy about everything he records? Froggy has thrown fits and has walked out of the studio, kicking chairs on his way out. Even though these actions might seem immature, I'm with Froggy on this one.
Televangelist Joel Osteen, who preaches at a huge church in Dallas and is on TV Sunday mornings, has also received some gripes from MJ lately. Both Joey B and Froggy admitted that they watch Joel and even receive e-mails from him. His positive advice about life in general is a great thing for people who need that extra push to be motivated. But MJ doesn't see it that way. He has called Joel a "snake-oil salesman" and says he doesn't need to be motivated by someone else because he can motivate himself. However, doesn't he realize that there are actually many people out there who need a little pick-me-up from a positive influence like Joel Osteen? I think MJ should reconsider what he has said about the guy and praise Joey for wanting to change his life to be more religious and spiritual. Joey's doctor told him to lay off the booze and change his lifestyle; otherwise, he might run into some serious health problems sooner than later.
Exclusive Video of Joey B Seeing Bigfoot!
Watch this exclusive video of Joey B seeing Bigfoot on I-95 in South Carolina. You won't believe what he actually saw! (Note: This is a reenactment with South Park-looking characters)
MJ Morning Show @ Gasparilla Parade 2007
"Rear of the Year" is back! Is your toosh bootylicious?
Yes, you read the headline right! The popular "Rear of the Year" contest has made its way back to the MJ Morning Show. Entires are now being accepted on MJMorningShow.com The first version of this contest was done in the fall of 2003. The rules to enter are pretty simple. All you have to do is take a picture of your rear (or butt, buttocks, behind, etc.) that is CLOTHED and completely covered. You then submit your photo on the show's main website. Listeners are able to vote on the rears, and a winner in both the male and female categories will receive a big prize comprised of $2,000 cash and a 42-inch Zenith flatscreen LCD HD TV. The total prize package for each winner is worth over $4,000 - an amazing amount for just having a good butt! Good luck to everyone!

The last time the contest was held, Fester seemed to be intrigued by all the male butts in the contest. MJ asked him about it.

The MJ Morning Show Crew as South Park Characters

Set to the MJ Morning Show Intro - Thanks to Pubratboy for the video

Kudos to MJ for rewarding a hero in the case of
2 missing Missouri boys

I've got to hand it to MJ for rewarding a hero in the case of two missing boys in the St. Louis area. Ben Ownby, who went missing on Monday, January 8, was spotted by a 15-year-old boy named Mitchell Hults riding his bike after the two got off the school bus. Mitchell saw a man quickly pull away in a white pick-up truck with a camper shell that apparently was carrying Ben. Mitchell gave this information to police about what vehicle he witnessed, which ended up being a key element to the discovery of both Ben and Shawn Hornbeck at a man's home in Kirkwood, Missouri. There is a possibility that the boys may never have been found if Mitchell was unable to recall the specifics about the vehicle that he saw. MJ called Mitchell and his family on the air, offering to send the boy who is now a hero a check for $1,000 for his good deed. I think this is a great demonstration of the positive things that MJ can do on his show. Even though he may give away breast augmentation and other plastic surgeries that some feel aren't the most needy things for listeners to get, this gesture makes up for any negativity of that and is certainly a good one on MJ's part.

With dating troubles, do you think Flunkie is a virgin?

This might be a touchy subject for some to even think about or stomach, but I think that the question has to be asked. Flunkie has a history of having so much trouble trying to date girls and at least begin somewhat of a relationship. He has tried numerous schemes to get girls to like him, but it always seems like nothing ever works and nobody ever wants to be with him, including posing as a Russian guy named Yuri on MySpace and meeting girls in-person while speaking in a Russian accent. Even Meredith, the Jacksonville station producer of the show, recently rejected his advances in a hotel room. So my question is: Do you think Flunkie is a virgin? He just might be one - or who knows if anything has gone on in his past, maybe when he was a little lighter.

THE FROGGY EGGNOG CHALLENGE

Exclusive video courtesy of John

A LOOK BACK AND A LOOK AHEAD

The year 2006 was one of the most eventful years that the MJ Morning Show has experienced since signing on the air in 1994. Joey B returned to the show in January after leaving in 2001, and he brought along his live-in roommate Flunkie to take over for Lunchbox on the sound effects island. Two female interns-turned-apprentices, Kristi and Jabberjaw, finally brought a full-time female perspective to the show that it had never really seen before. However, their time on the program didn't last too long. In August, Froggy 2 rejoined the show after leaving in April 2005. His slew of bits, including prank phone calls, the Froggy Fall Concert Series, and producing some new kid's songs have really made the show more entertaining and brought it back to a higher level that some people thought it lacked while he was gone.

So where does the show go from here? The situation with Uncle Fester is still uncertain as he demands a pay raise from management. There is a chance that he won't be back in 2007, but I really think we would have heard something about it if he did his last show. Hopefully more affiliates will pick the show up in the coming year since it has performed extremely well on stations in Tampa, Jacksonville, and St. Louis. An Atlanta station recently dumped one of its highly-rated morning shows, and there was talk of bringing MJ back to the airwaves in Atlanta. His contract with Clear Channel expires on August 31, 2008, and he has said that they are already pushing him to renew it as soon as possible. He claims that by waiting until "the bitter end", he will be able to get the best possible deal from either Clear Channel or another company. Either way, MJ will be on the air in some capacity for years to come. FLUNKIE'S NEW THEME

(Pet Shop Boys - Go West)
Was Flunkie going to impersonate a military member?
Joey B exposed a potentially dangerous situation on last Friday's show. He was looking through the history files on the computer that he and Flunkie use at their house and found that Flunkie had visited some military sites. He then noticed that there were signs of him being on MySpace and creating a new profile. Finally, he looked in one of Flunkie's bags and spotted a green U.S. Army jacket. Unbeknownst to Joey, there were also boots and pants in that bag. Flunkie was apparently going to impersonate a member of the military in order to pick up girls because he kept hearing about how women jump all over military men. He planned to create a MySpace profile with pictures of himself posing in the Army uniform to possibly attract a girl to him. Luckily, Joey exposed this whole thing to MJ, and MJ was pretty upset at Flunkie, threatening to fire him if he carries out the plan any further than what he has already done. Several months ago, Flunkie impersonated a Russian guy named Yuri because he thought girls would find his Russian accent to be attractive and sexy. Once that was exposed, the bit was over. All of these rejections from girls have caused the crew to keep making gay jokes about him, which Flunkie feels are completely untrue. It also prompted MJ to want to make a video game about Flunkie called "Rejected." There is a new computer program available where you can make custom games for Xbox 360, so Hurricane is apparently working on that now.

NO TURKEY FRYER FIRE FOR FESTER


Froggy's Fall Concert Series stunts have been going off without a hitch. However, when Fester is completely in charge of a bit, it usually turns into a disaster. This happened once again on the morning of Thanksgiving Eve as he attempted to recreate a turkey fryer fire. He had the whole fryer rigged up and filled with 11 pounds of boiling peanut oil. Thinking that it would ignite when he dropped a frozen 20-pound turkey into it, he was wrong. The turkey started to cook with absolutely no problems at all. The fire department was on-hand, an environmental clean-up company was prepared to clean up the mess, and a handful of listeners even stopped by to see what they hoped would be a huge blaze in the parking lot. However, there was really nothing to see except for a big turkey cooking in a vat of hot oil. FESTER POLL

With Fester's contract situation still uncertain as he hopes to get a huge raise, there is a possibility that he could leave the show at the end of the year. How do you think it would affect the show? Here's a poll question:

Another successful Froggy Fall Concert Series stunt! The third big stunt in the Froggy Fall Concert Series took place this past Friday morning. This time, Froggy and his fellow band members - Lou and Dave - part of his Goldie Wilson 4 Mayor band, all performed another "Saved by the Bell" song on a stage in the radio station parking lot. Right after the song, a crane lifted a 1979 Ford LTD high above the stage and dropped it onto the stage, smashing mostly everything to pieces, although an amplifier and some wood did survive. The impact ended up being a little lighter than expected. The largest crowd for any stunt that the show has ever done turned out for this one. Two people from Jacksonville even made the long, early-morning drive to Tampa and held up a "Jacksonville Loves the MJ Morning Show" sign. Fester cooked and sold his turkey legs, Allprintables.com handed out free t-shirts, and a churro man was even there selling 20 churros for $3. It turned out to be an amazing event. Froggy plans to take a week off, but the next stunt might be having Froggy set off a fire cracker in his butt after the story came out this past week from Great Britain.

THE FROGGY RING OF FIRE! I would like to thank John and Domenick for these two videos they took of the Froggy Fall Concert Series Ring of Fire. This is different video from what is on MJMorningShow.com. The first video recaps the entire event, and the second one is a slow-motion shot of Froggy and Fester going through the ring of fire:

MJ MORNING SHOW CLASSIC VIDEO

Here's another MJ Morning Show classic video from 2004! MJ is behind Fester and his kids (played by Dave the Dwarf and an intern) at a Popeyes Chicken drive-thru restaurant. They take FOREVER to figure out what food they want to order, so MJ takes the situation into his own hands and rams them out of the way so he can order and enjoy his meal.

Flunkie gets "fired" again after panic attack

Flunkie claimed that he experienced a panic attack around midnight and again at 3 AM early Tuesday morning. He told Joey B that he would not be going to work. When MJ found out about this, he flipped out and said he is fed up with Flunkie's antics. He even called him and discovered that Flunkie was at home eating an omelet and watching Prison Break on TiVo that he missed from the night before. This is when MJ thought that he was playing games with him. Flunkie initiated the firing by saying that it was good working with MJ, and then MJ precipitated the termination by telling him not to come back. This comes just several weeks after Flunkie was "fired" for not pulling audio that he was supposed to for the show. He returned to work the next day after that incident. On Wednesday morning (10/25), Flunkie was back to work almost like nothing had happened.

CLICK HERE to listen to the final phone call that MJ made to Flunkie in which he basically "fired" him for one day.

FROGGY'S FRIDAY FALL CONCERT SERIES

Thanks to John for this exclusive video that he recorded:

. LISTEN TO ALL OF FROGGY'S PERFORMANCES:

Froggy 2 - From Jesse to Becky (finale - turning up amplifier full blast)

Froggy 2 - Kelly Ripa My Clothes Off (finale - jumped through table)

Froggy 2 - Where Do You Hide Your Horns? (finale - crashed car)

Fester could be gone if he doesn't get a raise Uncle Fester's tenure on the MJ Morning Show could be over by the end of the year. He is asking for a raise that MJ says is about four times the amount he's getting paid right now. If he can't come to an agreement with management in the near future, his time on the show might be over. Fester joined the MJ & BJ Morning Show in 1996 as a sidekick who rarely said a whole lot on the show. In 2001, he took on a bigger role after BJ left and basically became MJ's co-host, even though most of the other members also chime in throughout the show. He said that it's not really worth his time to continue working and not getting paid the money he feels he deserves, which is a legitimate argument. He and his wife started up a Planet Beach tanning salon franchise in South Tampa at the beginning of the year, and MJ thinks that it's pulling in more money than he expected. We should find out in due time what Fester's future holds.

Jabberjaw says she wants to come back

After leaving the show for good on August 11th and being away from it for just over two months, Jabberjaw says she wants to rejoin the MJ Morning Show. She has been working as an intern at a local TV station but claims that she isn't too thrilled there. The point at which she decided it wasn't for her was when she had to arrange donuts on a plate for Hootie & the Blowfish, who performed on one of the station's shows. Jab worked for MJ for over a year and worked her way up the ladder to an associate producer of the show after being an intern for several months. She was chosen over Krisit the Apprentice to be the show's first full-time female member. MJ says that she would have to start out with an internship once again if he chooses to bring her back. Rachel the Flying Tomato has assumed her position and has worked on the show in some capacity for four years. Joey B feels she's a hard worker and would not boot Rachel off the show for Jabberjaw. MJ brought back Joey and Froggy 2, so will he do the same for Jabberjaw? We'll have to wait and find out for however long it takes MJ to mull over the situation and make a decision.

Jabberjaw Poll Results: Yes - 45%, No - 55%
These results are different from the first poll because the majority of listeners who voted originally wanted Jab to stay, as she received almost 70% of the vote in her favor. However, a second vote was done since the first one allowed you to continuously vote without tracking your IP address. MJ will make his decision on Jab's possible future with the show soon. He said the poll results will have an impact on his decision.

Click here to listen to Froggy's attempt at breaking the world record
of eating the most Jalapeño peppers in 8 minutes (247). He only lasted a few minutes after
downing just a handful of them, but the heat was too much for him to handle!




MJ FAN PAGE
POLL QUESTION



Check out "The Bite", a movie with cameo appearnces from Uncle Fester (known as Tony Fatso)
and Dave the Dwarf. You can read up on the movie, check out some clips, or order it on DVD.

St. Louis listener wins $7,000 on Deal or No Deal

Sherri Sampson, a St. Louis listener to the MJ Morning Show and a school teacher, went on to the NBC hit game show "Deal or No Deal" hoping to walk out of the studio a millionaire. Unfortunately, her luck didn't go too well as she ultimately walked away with a deal for $7,000. Sherri knocked out very few of the top amounts at the beginning of the game. Things were looking good. But they took a turn for the worse as the largest amount on the board was only $25,000. She decided to play it safe and take a $7,000 deal. One bright spot on the show was when her in-laws appeared onstage after they were secretly invited to attend the show. They had never seen Sherri's second daughter, so in a way she won the game on that account. Congratulations to Sherri on her deal and getting the opportunity to appear on a huge game show!

Froggy 2's Xbox Live screen name is: gw4m
(stands for Goldie Wilson for Mayor)

Will MJ become the next Itzhak Perlman? MJ has been playing the violin for the past two years on and off. He mainly took it up because his daughter Chloe has been getting private violin lessons, and he obviously wants to support her with whatever she wants to do (even though her parents might be pushing this). On Tuesday morning, MJ brought his violin into the studio and made all the listeners' ears bleed as he stumbled through simple tunes like "Twinkle Twinkle Little Star." Hurricane wanted him to play "The Devil Went Down to Georgia" or the New Wave hit "Come On Eileen," but he was too inept to carry those complicated tunes. A lack of practice and commitment to play the insrument might hinder his chances of becoming the next Itzhak Perlman - a world renowned violinist who is disabled and famous among all the Classical music lovers. Maybe MJ should stick to microphones instead! Is Joey B a father? Jen says so A listener named Jen recently left two voicemails for MJ. In them, she claims that she is pregnant and that Joey B is the father of the baby on the way! She sounded very timid and nervous while leaving the messages, so MJ is thinking that she is telling the truth and couldn't understand why she would lie about something like this. But Joey maintains that he has no idea who this woman with his "baby" is. He knows several women named Jen, but he says that none of them sound like the one who left the messages. It is possible that he got some action while in a drunken stuper and never even realized what happened because he said something like, "Oh my God, one of my boys got past the goalie" right when he was questioned about the situation. Keep listening to find out if Jen is telling the truth or if she fabricated the whole story just for attention. Or it could have been a complete misunderstanding since some people have been known to play it off as if they are members of the MJ Morning Show in public in order to get a free meal or meet someone.

AN MJ MORNING SHOW CLASSIC VIDEO



Watch a spoof of Kristen the Intern's "What a Feeling" appearance
on American Idol from 2004. MJ acts as Simon, Fester is Paula,
and Dana the Engineer is Randy.

MJ is giving Flunkie one more chance

Flunkie was "fired" from the MJ Morning Show on Monday because he forgot to record the Emmy Awards so that MJ could use audio clips from the award show on Monday morning and then covered up his mistake by lying about how the TiVo was messed up. MJ later revealed that management wanted him to move Flunkie off the show since Froggy 2 was back. However, MJ decided to stand up for Flunkie and keep him on the show. His desire to continue to have him aboard as a crew member obviously went by the wayside when he told him to take a hike. Joey B then walked out in anger of just seeing his good friend get canned. On Tuesday morning, Flunkie returned to the show after MJ said he is giving him one more chance. If he lies to MJ one more time, he's a goner.

--> LISTEN TO THE FIRING AUDIO
--> "BOOP, YOU'RE FIRED" (short recap of the firing)

Speaking of Flunkie, visit www.saveflunkie.com to help the poor man out!

FroggyTones will be available for download soon

During Froggy's last stint on the show, he recorded several FroggyTones - ring tones you can download for your cell phone that have him singing his own custom lyrics over a variety of popular songs. He made a website and sold the ring tones along with a signed photo of himself (to avoid copyright infringement), but after he left the show the FroggyTones obviously went away. So MJ wants to bring them back and try to have Froggy crank out a bunch of them so listeners can buy and download them online directly to their phones. He recorded three new ones and plans to sell them soon. They will be for sale on www.froggyphonetones.com once the website is up and running. Froggy 2 is back and "dumber" than ever (so he claims)
Yes, the long-awaited announcement finally came for MJ Morning Show listeners on Wednesday. Froggy 2 has worked out a deal to return to a place where he spent almost three years, from July 2002 to April 2005. He will also bring back some of his former bits (even if he doesn't want to) like "Quiz the Craphead" and the "Egg Nog Challenge." But this does have to make listeners wonder what it will mean for Flunkie, who has since taken over a job Froggy 2 once had. Will they both be in charge of audio and sound effects? Will Froggy be featured on the show as much as he was a few years ago? Only time will tell.

Some listeners also felt that this "major announcement" was overhyped and did not live up to everyone's expectations, even though most are excited to have Froggy back. When Joey B rejoined the show this year after a 5-year absence, there was not as much drama surrounding his return. Maybe it's the fact that more listeners remember Froggy 2 than they knew Joey B. The main reason it's a "shocker" is because nobody ever really expected Froggy to come back. MJ's policy of not really wanting to rehire former show members back on the program in order to have a new and fresh cast seems to be thrown out the window, as both Joey B and Froggy are now on the show again.

**Post your thoughts on Froggy's return to the show on the MJ Fan Forum. Jabberjaw leaves the MJ Morning Show for internship
Jabberjaw decided to leave the MJ Morning Show in order to work as an intern on NewsChannel 8's Daytime show in Tampa. Her last day on the show was August 11, 2006. Here is what she posted on the MJ Fan Forum:

"Hey everyone! I know a lot of people read this forum (including members of the show occasionally!), so I wanted to set the record straight! Friday (8/11) WAS my last day on the show. The reason there was no mention of it was because MJ didn't know until 10:30AM on Friday. I knew since Tuesday morning it was going to be my last week. I was forced to make a decision and I chose the show. Unfortunately, I was really unhappy with how I felt after I made the decision. On Tuesday morning, some things were said on air questioning my intelligence. That was definitely the straw that broke the camel's back. I told the people who needed to be told that I was leaving. I worked and made sure the show did not suffer whatsoever. On Friday after the show, I was EXTREMELY nervous to tell MJ. He was recording commercials and I waited for him. I told him I decided to take the internship with NBC. I know some people are questioning if NBC would even allow me to come back after missing the first week of my internship! Three of the people at News Channel 8 (who are three of the nicest people I've ever met in my life!) said the offer still stood to join the team. I'm really happy with my decision and I hope the morning show does great! I posted this because I don't think MJ will be saying much on my departure. It took him awhile to mention Kristi was gone after I stepped up and took her position. One more thing, the huge scandal between Joey B and me had absolutely NOTHING to do with my decision to leave. In fact, he's probably one of the people I'll miss the most! We've put everything behind us and he's really a good guy! I just wanted to set that straight! Jab" Jabberjaw brought some funny bits to the show, like "Celebrity Spotlight with Jabberjaw" in which she asked celebrities some really stupid questions and was even told to talk about the movie "Pulse" instead of other movies when interviewing Christina Milian. She also had some clever "awkward questions" about things people feel uncomfortable asking. We're going to miss Jab, but hopefully she will succeed in whatever career path she decides to take.

Flunkie has licked...
Door handle in radio studio
Fester's cell phone (put it in his mouth)
Shopping cart handles at supermarket
Escalator handle at airport
ATM keypad (coming soon!)
Yet he still hasn't gotten sick. What's the deal?
Joey B's Flubbing of the English Language (maybe it's the beer talking):
- "Bigfoot was slumbering across the highway" (instead of lumbering)
- "You're being demeanoring towards us" (instead of demeaning)
- "Free fringer painting for children" (instead of finger printing)
CLICK HERE TO HEAR JOEY B TRYING TO RECORD A COMMERCIAL
JABBERJAW'S AWKWARD QUESTIONS:
1. Are people with lazy eyes able to see you even if one of their eyes is looking off in a different direction? (Yes)

2. Should you walk butt-faced or crotch-faced when trying to get to the end of a row of seats at a sporting event or movie theater? (Depends)

3. Are mentally challenged people 18 and older allowed to vote? (Yes)

--> Stay tuned for Jabberjaw's next awkward question!
MAKING DAVE THE MAINTENANCE GUY LAUGH IS A MORNING SHOW HIT!
If you haven't heard Clear Channel's maintenance man Dave Legerreta laugh yet, then you're missing out! He has the most infectious laugh you could ever imagine, and he'll laugh at anything you say - even if it's something you should not make light of at all. MJ has had Dave on the show twice. He lets listeners call in and say one or two words to see if Dave will laugh at them. They could be anything from "stapler" to "fried onion" to "poop." So far, he has laughed at almost everything, except words that Flunkie says. Stay tuned to hear the next time Dave Legerreta makes an appearance on the show so that you can call in and make him laugh!
MJ Lampoon's Summer Vacation out west
MJ took his family on what turned out to be a crazy vacation out west. The Schnitt family flew out to Colorado and spent time there, as well as in parts of New Mexico, Oklahoma (MJ had to drive through the state's panhandle just to say that he did), and a few other states. At Maria's Mexican Restaurant in Sante Fe, which offers 100 different varieties of margaritas, Chloe got her first sip of alcohol when she grabbed Michelle's tequila behind her back, but then had to wash it down with her own lemonade. Also, MJ almost got a ticket as he drove wrecklessly through a national park to get around some old people who were plugging along in their Grand Marquis at 7 mph. He illegally crossed the double-yellow lines to get around them. Luckily, the cop only gave him a warning, keeping his clean record of no tickets since 1991 intact. Finally, the family stumbled upon a movie crew that was filming a future flick, "The Hitcher", which is apparently the remake of a 1986 movie with the same title. MJ immediately started snapping pictures after he saw the sign that said, "No photos allowed." Overall, it turned out to be a very enjoyable vacation for MJ but probably one of the worst for the rest of the family. Michelle admitted that she said numerous times, "Hey kids, look out the window...it's nothing!" as they drove through no man's land.
As fans of the MJ Morning Show, we can all agree that the show is probably one of the best, most creative and unique radio programs on the radio. But has it changed over the years? I decided to point out some similarities and differences between the MJ & BJ Morning Show (1994-2001) and the MJ Morning Show (2001-present):
I guess it's hard to compare the show from several years ago to now, but I will try. During the MJ & BJ era, MJ would not hesitate to call celebrities early in the morning. He woke up O.J. Simpson on numerous occasions during and after his trial in the mid '90s. The radio duo also got ahold of Jerry Seinfeld's home number and called him early in the morning. They were even threatened with a lawsuit to stop calling! MJ also made so many live Crotchety and other prank calls to companies that weren't even a part of the seven CD's they made. On top of everything else, the crew used to do more bits out in the parking lot or on the streets. "Smash Your Trash" was a feature where listeners would bring by old cars, boats, or even pianos, and they would get a crane to lift one up and smash it on another. Jason the Buffoon Boy, Fester, or one of the interns were the king of the streets when they would be live on a cell phone at a restaurant, store, supermarket, or any other location attempting to pull off some crazy stunt.
The MJ Morning Show is different than the MJ & BJ Morning Show. Nowadays, MJ rarely makes any prank calls anymore. He hardly ever calls celebrities, either, and hesitates to call them when he even has their number like he did with Katharine McPhee. The show is focused more on news stories like "Morons in the News" or "MySpace Morons", which can be funny at times if they're accompanied by sound effects or jokes but can also get old after awhile. The crew has done very few bits in the parking lot or on the streets lately. Interns either gather paperwork, print out contest entries, or answer phones instead of going out on the town for the show. Any proposed stunts are just talked about and then cancelled, like Hurricane's motorcycle jump. Overall, I think the show has become less active than it was years ago. But Im still a fan of it, as are hundreds of thousands of other people.
Who do you support: Joey B or Jabberjaw?
If you missed the on-air debacle between Joey B and Jabberjaw, then here's a brief recap:

Jabberjaw was in tears around 9 AM during Friday morning's show in what turned out to be an emotional outburst of anger she expressed toward Joey B. It all stemmed from an incident earlier in the week in which Joey B supposedly yelled at her and cursed her out before slamming his fists on a TV set in the office. She forgot to do something with the audio tape used to record the show every morning, and Joey got extremely upset with her. She said she was going to give MJ her two-weeks notice and leave the show, but MJ encouraged her to stay because just one little incident like this should not make her want to leave the show.
So the question is: who do you support? Did Joey do the right thing by yelling at her? Or did Jab have a legitimate point when she cried and got angry at him for disrespecting her? Vote below:
Save the MJ Morning Show from going off the air on 97.9 Kiss FM in Jacksonville! A listener started up this petition, so if you live in Jacksonville and want to show your support for MJ, sign it!
CLICK HERE TO SIGN THE PETITION
WATCH UNCLE FESTER ON "THE CIGAR DAVE SHOW"
This video is from "The Cigar Dave Show" which focuses on entertainment, food, drinks,
and cigars in the Tampa Bay area. Fester (aka. Tony Fatso) appeared on the show
this past Saturday and cooked up some sweet and spicy barbecued chicken. If the
video player doesn't load, click here to watch it on the YouTube.com website.
(Video courtesy of WFTS-TV in Tampa)

METH LAB MONDAY JINGLE

Six o'clock already I was just in the middle of a dream
I thought I heard MJ talk about crystal methamphetamine
It's just another Meth Lab Monday
(Oh-ooh-oh)
The crooks are on the run-day
(Oh-ooh-oh)
The cops are gonna come-day
(Oh-ooh-oh)
It's gonna be a fun day
(Oh-ooh-oh)
It's just another Meth Lab Monday
DOWNLOAD THE JINGLE

Jingle produced by
Mark Maynor of Monster Mix Productions
FESTER THE FIRED FATSO
No, Fester has not been fired from the MJ Morning Show (yet). But he has been fired from so many places in the past. Here are some of the jobs he's had and the reasons for being fired:

Winn Dixie - Fester was fired from this supermarket for ramming an old lady with a shopping cart. She was loading groceries into her car and he slammed the cart into her back, pinning her against the side of the car.

Barnes & Noble - When a homosexual customer asked where the "alternative lifestyle" section was, Fester told him where he could get the "fag rags." He was terminated for the rude remark to a customer.

St. Petersburg Junior College - Fester was riding around in one of the campus golfcarts and crashed it. He was fired for breaking the cart, which apparently is still in use to this day on the Clearwater campus.

Sam's Club - Fester was fired from Sam's Club when he didn't screw on a tire to a lady's car tightly enough. As she drove off the lot, the car started skidding along, and the tire flew off from underneath the car. Luckily she didn't get hurt.
Fester's Hospital Bill Revealed!
Fester's total hospital bill for 14 days (including 8 in the ICU) during the low point of his myasthenia gravis in June was:
$284,459.00
Happy 47th Birthday, Dave the Dwarf!
On July 5, Dave the Dwarf celebrates his 47th birthday. Happy birthday, Dave! Even though the oldest dwarf with your form of dwarfism lived to be only 45, we all know you will continue to set records each year and have many more birthdays in the future.
Froggy will soon be a daddy
There are some people you can probably think of right now who you could never imagine being a parent. Whether it's the lifestyle they live, their attitude or any other factor, things like seeing them pushing a stroller or changing a diaper are completely unfathomable. Some listeners may have thought this about Froggy because of his carefree, badboy kind of persona on the show. But think again.
On Monday, June 20, 2011, MJ made the announcement at 8:05 EDT that Froggy will become a father. His beautiful wife, Kim, is about four months pregnant with their first child. It was not revealed whether it is a boy or girl. She is expected to deliver the baby some time in mid-December, meaning the child should be an early Christmas present for the radio couple.
Froggy's love of drinking - especially Jamison Irish Whiskey - and fishing may be activities he has to put on hold for a while once the newcomer arrives. Plus Meatball and Mimi, his two dogs, will have to take a backstage seat in the Cusmano household for at least a little while.
It was hard to imagine MJ being a parent, and he now is the father of two children who appear to be smart, healthy and happy. So let's give Froggy a chance because he will probably prove us all wrong and be a great daddy, won't he?

BABY UPDATE: There will be a Froggy Jr. as Froggy revealed officially on July 28, 2011 that he and his wife Kim are having a baby boy. Kim's expected due date is December 13, 2011.
Fester's disorder one of many odd ailments among crew
As most listeners know by now, Fester was diagnosed with myasthenia gravis, a rare autoimmune disorder that can affect all the muscles in the body. But Fester, who also suffered an odd health scare in 2010 when he collapsed while walking his Chihuahua, is not alone in being blindsided by a rare or odd ailment. Here are some other instances among the rest of the crew:
Froggy 1, who previously worked on the show before the current Froggy took his place and nickname, was diagnosed with acromegaly in 2010. This extremely rare disease is generally caused by tumors on the pituitary gland, which Froggy had. It caused his body and limbs to grow in size. He has had successful surgeries, but his prognosis is unknown at this point.
Froggy 2 has had his fair share of ailments and illnesses during his time on the show. He has had stomach ulcers, kidney stones, IBS troubles, nausea and other medical issues that usually plague people who are much older than he is.
Meredith had to have an emergency appendectomy in 2010 due to an inflamed appendix. She was away from the show for a week and continued to suffer from pain even after she returned. But she also chose to have surgery later in the year when she had a new chest installed.
Hurricane had complications from wisdom teeth surgery and was on pain medication for a while.
Dave the Dwarf has had health issues that go along with his dwarfism, including high blood pressure. But he has outlived the oldest dwarf with his condition by almost two years. Dave turns 47 in July 2011.
Mary the Bull-Dyke announced on the show that she had incurable breast cancer after also suffering from multiple sclerosis (MS) and other ailments.
Amazingly, MJ has had no major health issues during his 17-year run hosting the morning show. Aside from a minor case of acid reflux along with getting impaled in the arm by part of a tree while working in the yard, he is arguably the healthiest member of the show.
Thumbs up to Crystal the Intern!
There is something special about Crystal the Intern's voice. In radio terms, it "prints" well on the air. When she talks on-air, she always speaks clearly, sounds energetic and enthusiastic and simply has a great voice for radio. It's hard to say this about interns who are new. Good luck Crystal because I think you can make it in broadcasting if that is your ultimate goal!
We have a winner in the sixth annual MJ Morning Show Trivia Challenge! Congratulations to Chris Wojcik of Seattle, WA for answering all 15 questions correctly! Chris will receive a $50 Amazon.com gift certificate for winning.
Thanks to everyone for entering the contest and taking the challenge. All entrants did a great job, and it shows how much some listeners really pay attention to the morning show. There may be another contest later this year, so check back to the MJ Morning Show Fan Page for details and to stay up-to-date on the show.
Here are the correct answers to the questions:
1. In the motel room where MJ's family was staying recently, what food item did the rats eat? Protein bar
2. What is the name of the British character Froggy plays in some of his crank calls? Billy Beebop
3. Did the Egg Test correctly predict that the Packers would win the Super Bowl this year (yes or no)? No
4. Which reality TV show did Snooki and Vicky the Interns try out for? "Big Brother"
5. Which intern did MJ criticize and make cry because she put gobs of Ranch dressing on her salad while trying to lose weight? Jordin
6. How much money did MJ blow out to listeners in March because of leftover funds in the morning show budget? $3,000
7. What did the fetish girl do to Froggy when she was in the studio? Kicked him in the crotch
8. What is the name of Fester's wife? Allison
9. How old was Meredith's female stalker who sent her e-mail death threats? 17
10. The name of Richard's wife in Froggy's crank calls was finally revealed. What is it? Judith
11. When Froggy saw someone get decapitated on a carnival ride, what song was playing on loudspeakers at the carnival? Bon Jovi's "You Give Love A Bad Name"
12. What is the name of Froggy's gay character in his crank calls? Alfonso (or Alfie)
13. Which member of the Spice Girls does MJ think Leah the Intern looks like? Scary Spice
14. What was the name of Meredith's last boyfriend? Marcus (aka. Mucus)
15. Meredith joined the MJ Morning Show as its audio producer in what year? 2007
MJ Morning Show Blasts from the Past
Two former regulars on the show recently made appearances on the air:

Flunkie: His nickname says it all. He worked as the show's audio producer from January 2006 to March 2007 after his friend Joey B dragged him down from up north. He allegedly had a "tryst" in a Jacksonville hotel room with Meredith who, at the time, was the producer for the show at the Jacksonville station. His stint on the show ended abruptly after he demanded a raise from Doug Hamand, who denied his request and made him decide to quit. Flunkie said he is now the owner of a wedding DJ company outside Philadelphia.

Legally Blind Mike (aka. LBM): Mike is one of the many legally blind listeners to the show. He first called into the show about 10 years ago, and MJ decided to bring him in to the studio. He was involved in several bits, including ramming a car into a brick wall in the radio station parking lot, getting pepper-sprayed by Fester and putting his tongue on a battery in hopes that it would restore his sight. Mike said he isn't doing much these days - as usual - but is waiting on an important piece of information regarding future education opportunities. He did not provide many details, much to MJ's dismay.



Caller insults Meredith - TWICE

Prank callers rarely get through when MJ takes calls on various subjects. Even if they do, he will usually dump what they say and hang up on them as soon as he can hit the button with his finger. But one guy (or maybe two different guys) made it on recently. They insulted Meredith each time, talking about how ugly her face was. As MJ stated, they weaved in their insults quite well into the subject matter on which he was taking calls. Listen to call #1 and then listen to call #2. You be the judge on whether it's the same guy or different people.


Meredith hosts the show
Recently, Meredith made it clear that she wasn't getting enough air time. So MJ and the rest of the crew fled the studio, leaving her alone to host the show with only some interns by her side. Listen to what she did in her morning show hosting debut.
Longer segments = fewer commercial breaks
From August 2010 until recently, the MJ Morning Show was split up into a ton of segments, commercial breaks and songs. If you turned on the show at the same time every morning, you might hear something different because of how varied the format was.
Starting March 21, the show took on a new format with longer segments of the crew talking and fewer commercial breaks - but now longer breaks. According to MJ, this makes the show a little more "listenable" so that when you turn on the radio, you're more likely to hear the show for a longer period of time than ithe show cutting to a song or commercial break right away.
All four hours of the show have been modified. They no longer play a song during the first segment of the show. Instead of two short segments from 7-7:30 AM ET, there is only one long segment. The same goes for the 8:30-9 AM ET block. This also means two songs are played back-to-back a little more frequently.

In the end, the show is probably about the same as it was before the changes. But longer segments are always a better thing for the listener, so at the very least they have more of those.
Fester caught talking during commercials
Fester recently took a page out of Joey B's book when he was heard talking during a commercial break. He and MJ were interviewing Jim, a member of the military stationed in Japan, about the recent earthquake there. Listen closely and you can hear Fester's voice bleed through the commercials. Also, if you forgot about it, here is what happened when Joey was caught doing the same thing a few years back. He was apparently having a conversation with MJ about ex-NFL QB Trent Dilfer.
Condolences to Fester and his family
The MJ Morning Show Fan Page would like to send its condolences to Fester and his family at this difficult time. His father Lawrence M. Siciliano passed away on Friday, February 25, 2011 at the too-young age of 69. He had liver failure and was denied getting a liver transplant just days earlier because of his poor condition and the fact that doctors did not know how long he could live after the surgery. Fester just lost his mom three years ago, so he was afraid of being an "orphan." That reality has unfortunately come true, so say a prayer for he and his family.
Former intern engaged to MLB pitcher
Jessica the Albanian Intern was working on the show for free just a few years ago. She answered phones. She got coffee for members of the crew. She got snacks out of the machine for MJ. Now Jessica is engaged to a Major League Baseball player.

During a late February visit to the morning show studio, Jessica revealed that she and Pittsburgh Pirates pitcher Jeff Karstens are together and plan to get married someday. Karstens, a 28-year-old right-hander, had a 3-10 record with a 4.92 ERA last season. But his stats probably aren't a total reflection of his ability since he is a member of one of the worst teams in baseball. The Pirates finished 57-105 in 2010 and currently have the longest streak of losing seasons in the history of professional American sports. Their last winning season was in 1992 when Barry Bonds played there.

Jessica, an intern on the show from about 2006 to 2008, first met Jeff at The Venue, a bar and club in Clearwater. He was with some teammates and didn't want to hit on her at the time but found out who one of her friends was and pursued her that way. He also changed his flight to stay in town one night so he could meet her, and the two hit it off shortly thereafter.

Karstens was originally drafted by the New York Yankees in 2003 and pitched for the team in the big leagues in 2006 and 2007 before being traded to Pittsburgh in 2008. According to ESPN.com, he made $401,500 in 2009 and is likely making more than that amount now.
Who's next for Meredith?
We all know by now that Meredith is single after breaking up with her boyfriend Marcus (aka. Mucus). The two were together for over a year.

So now the burning question is, who is the next guy for Meredith? Will Robert finally get his chance? Is Hosni on the prowl? What about Bieber? Or did the "wink" to Sid that day mean something?
Can you believe it was 10 years ago this week when what we now know as the "MJ Morning Show" began? No, it wasn't the beginning of the show itself. That happened 17 years ago on Feb. 7, 1994 when the MJ & BJ Morning Show kicked off on WFLZ-FM in Tampa. The current format of the show, however, started in February 2001. That is when BJ left the show and MJ became the primary host and face of it. Fester basically slid in to the sidekick chair sitting across from MJ, and the rest of the crew gained a little more microphone time as well.
Many listeners and radio experts wondered whether the show would succeed with only MJ as the main guy and no real official on-air partner like he had with BJ. A decade later, the crew has demonstrated that this type of show can work.

So who have we been introduced to as new crew members in the last 10 years? Here are some of the more prominent names:

- Froggy 2 (current Froggy)
- Hoover
- Joey B (second stint)
- Flunkie
- Meredith
- Ryan Seacrust
- Lunchbox
- Kristi the Apprentice
- Jabberjaw
- Tacoboy
- Tommy Chuck
For a complete list of everyone who has been on the show over the past 17 years, visit the show cast page.
Meredith is not "disengaged" from the show
Recently, MJ has commented that Meredith seems "disengaged" from the show. He doesn't think she is saying as much as she used to. He doesn't think she cares about the show as much. And he may not think she is putting as much effort into her job.
But here is the problem with that: many of her duties and responsibilities are behind-the-scenes. She always pipes in and says something if she has a point to make or wants to agree or disagree with someone else on the show. But she is also the audio producer and has plenty to keep her busy that most of the time is inaudible to the listening audience. She helps push the buttons and set up the commercial breaks, songs, segments and other aspects of the broadcast that generally go unnoticed unless you could watch a webcam of Meredith in the studio. Remember the old studio cam from years ago? That would prove my point.
So maybe Meredith can be a little quiet here and there. The only difference is it's nothing new. Her job requires other work that the primary players on the show - MJ, Fester and Froggy - don't have to do. She and Hurricane help keep the ship afloat when they are not talking on-air.
The year 2010 was defined by some unique and unexpected occurrences on the MJ Morning Show.
Health problems were a major issue for the crew this year. Froggy had a severe bout with stomach ulcers and had to have surgery to remove them. It was the fact that he had been popping Excedrin pills like crazy to help his migraines that caused the painful ulcers. Meredith had to have her appendix out in March after suffering from appendicitis. In addition, Fester hospitalized early in the year with atrial fibrillation. He was out walking his Chihuahua Bailey and collapsed in the street. Hurricane also had complications from wisdom teeth surgery and was also on pain medicine for a while. It seems as if MJ was the only one on the show to enjoy a healthy 2010.
In March, the show finally went live in St. Louis on Z1077 after 12 years of running on a one-hour delay. This allowed listeners to call in and participate in the show for the first time, and many St. Louis listeners did call in during phone segments. The show's segments had been chopped up and MJ was cut off in mid-sentence many times before they went on live, so many St. Louis listeners were relieved about the change, although it bumped the show to an hour earlier from 5 a.m. to 9 a.m. instead of 6 to 10.
Some of the morning show crew made some rare national TV appearances. In June, Fester appeared in numerous segments on The Weather Channel as part of a summer kickoff show in which he grilled up popular summer food items during a live four-hour block on a Saturday morning. The crew also got plenty of face time on the Discovery Channel show "Pitchmen." Following the morning show's "InventorQuest 2009" event back in November 2009, footage from the event was featured in episode 2 of the series' second season with pitchman extraordinaire Anthony Sullivan and Billy Mays III. The episode ran on August 26 at 9 p.m. on Discovery and included numerous clips of MJ as well as shots of Fester and Meredith in the studio.
Also in August, MJ added several more songs to the show. He said Tommy Chuck and other radio experts had determined that listeners want to hear more music in the morning, so he reluctantly gave in to playing more hits from Katy Perry, Ke$ha, Mike Posner and Bruno Mars to complement the crew's usual bits and discussion. Songs were added only to the first and fourth hours of the show, however.
There was also a fair amount of sad news to go around throughout the year. Longtime GM of Tampa radio stations Dave Reinhart passed away at the age of 67 on May 2. Also, Froggy 1 (who was replaced by the current Froggy) revealed that he had acromegaly – an extremely rare neurological disorder in which the limbs and head increase in size. Mary the Bull-Dyke said she had untreatable breast cancer and likely would not survive it. Finally, "Double-talkin'" Dan DiLoreto, the market president for MJ's Tampa station and many others decided to hang it up and retire after over 40 years in the radio industry.
This year, the show concluded with 14 breast augmentations rather than the traditional baker's dozen. That's because in addition to "Holiday Hooters," Meredith had a new rack installed after she lied to the crew and said she was going to a wedding in North Carolina. She was supposed to have a nose job instead. However, Clear Channel management stopped her from having the procedure due to possible workman's comp issues.
The two annual traditions on the show – the Super Bowl Egg Test and the Eggnog Challenge – went 1-for-2. The Egg Test correctly predicted that the New Orleans Saints would win the Super Bowl, which they did over the Indianapolis Colts. But the Eggnog Challenge resulted in the same old result – a fail. Sid the Intern was cocky and thought he could finally do what Froggy and DilBrett never could, but after only downing less than half of the eggnog, he hurled all over the place.
With talk of MJ possibly giving up the morning show in 2011 to focus on his ever-growing afternoon Schnitt Show, this may be the final complete year in review of the MJ Morning Show. So cross your fingers and hope that maybe we'll have at least one more year of our favorite show on the air.
We've reached 400,000 hits!
Thanks to everyone who has visited the MJ Morning Show Fan Page over the years. We have now surpassed a major hit count of over 400,000! I never expected this site to be checked out by that many people. It may not be nearly as content-rich as MJMorningShow.com, but I still try to provide some different stuff on here than what you will find elsewhere. As always, if you have suggestions for material or things you'd like to see on here, e-mail me by clicking on the "Contact" link above. Thanks again to all of the great visitors!


Did Froggy rip off "Crank Yankers?"
A listener has accused Froggy of possibly stealing an idea from the Comedy Central show "Crank Yankers." Within the last month, Froggy made a call posing as Biscuit the bodyguard wanting to rent a room that was posted on Craigslist. He called the couple to inquire about the room and said he was with the Wu Tang Clan. He said he'd have about 23 members of the band coming in. The listener pointed out that in the third episode of Season 1 of "Crank Yankers," they made a prank call to a hotel posing as someone from the Wu Tang Clan needing to book 12 rooms.
There are a few similarities between the two calls. First, both Froggy and the "Crank Yankers" caller - Dave Chappelle - mention that they are with the a relatively obscure band, the Wu Tang Clan. They both say they have a bunch of people who need a place to stay. They both also asked if smoking was permitted in the locations they each were inquiring about.
Here is the "Crank Yankers" call to compare to Froggy's call:
Meredith gets her own "Holiday Hooters"
She didn't get the nose job because Clear Channel management nixed the plan due to potential liability issues. But she did get a boob job.

That's right - Meredith got her own pair of "Holiday Hooters" just in time for the most festive season of the year. While most people will be spending time with family and friends over the next month, Meredith will be spending time getting used to her new chest.

She finally revealed that she had the procedure done on Monday, Nov. 22 after Hurricane and Froggy dropped the potential bombshell on Friday morning. Hurricane had seen her with some implants in her purse that she was planning to try out to see how they felt on her body. Froggy noticed that her Facebook status said she was going without makeup on the day of her surgery - something she would never do but is required before going under the knife. She lied by telling the crew that she was going to a wedding for her boyfriend Marcus' friend in North Carolina. She left the show an hour early on Thursday morning and was headed to the operating room rather than the airport.

Dr. Adams, the show's official plastic surgeon for over 10 years, installed the new rack. She received silicon implants that are a full C/small D with about 450 cc's. The procedure was done under the muscle, which is apparently a better way to go for some women. Once the swelling goes down, she expects the new puppies to decrease slightly to about 425 cc's.

So if you were planning on entering "Holiday Hooters" but were still on the fence about it, maybe Meredith's decision will sway you to do so. Obviously there is no better guy to do it than Dr. Adams.
Holiday Hooters Jingles
Download some of the jingles for this year's "Holiday Hooters" contest! These are from Mark Maynor of Monster Mix Productions. I'd like to personally thank him for sharing these with me so that I can share them with you:
Booby King (Burger King commercial)
Bra Can't Handle Me (Can't Handle Me)
I'll Hike It (I Like It)
Show 'Em Off (Take it Off)
The Way You Lie (Eminem/Rihanna song)
Meredith's nose job a no-go
The long-awaited surgery had been anticipated for months on the MJ Morning Show. Meredith was going to have her big schnazz reconstructed so that it would look smaller on her otherwise attractive face. But Clear Channel management put the kibosh on the procedure.
The nose job, which was going to be done by professionals at the Premiere Center in Tampa, was scheduled for Monday, November 22. Meredith expected to have it done, take Thanksgiving week off and then come back to the show the following week with a brand new nose. Apparently upper management at the station recently got word of the surgery, which MJ had talked about since March or April, and they were concerned about liability issues. If something went wrong, they were afraid Meredith would file for workman's comp. and have a case against the radio station.

Meredith has said that she has wanted a nose job since she was a teenager. The crew frequently pokes fun of her because of it as well. At this point, she might have to do it on her personal time and not even talk about it on the show. Also, don't forget about the breast augmentation that she also wants. At just 25 years old, does Meredith really need plastic surgery?
A rare screw-up on the show

MJ usually has complete control over the show with no issues every single morning. But on Oct. 19, he made a rare screw-up by not breaking from the MJ Radio Network properly and immediately going to local traffic and commercials. They had to stop it all and come back to MJ so he could go to break the correct way. Check out the audio to hear what happened.


Happy One-Year Anniversary of the MJ & BJ Reunion!
One year ago on Oct. 22, 2009, MJ & BJ reunited in the studio for the first time in over eight years. During the two-day event (on Oct. 22 and 23) that was preceded by some major hype, BJ admitted that he had used cocaine while working on the morning show, and drug use ultimately forced him to quit the show and move away to Cincinnati. He now co-hosts a morning show on Alice 105.9 in Denver. The two hosted the show from 1994 to 2001, and it has been the MJ Morning Show ever since. Will we see another reunion like this? Could BJ potentially come back and be a part of the show like some thought at the time? Probably not. MJ has talked about giving up the show at the end of the year. If only he could hand it off to BJ.
Does Sid the Intern need a new nickname?
When Sid the Intern started his internship on the MJ Morning Show, MJ immediately nicknamed him "Sidphyllis" - a word play on his real name and the STD syphilis. Sid balked at the name and even brought up on the show how he was offended by the name because some of his friends and family gained the impression that he actually had syphilis, which is not true. But MJ said he could call the interns (and crew members) whatever he wants. Remember that Froggy and Fester had no choice in picking their names.
Maybe Sidphilis isn't the best nickname anyway for this kid. After revealing on the show that he had been fired from a coffee shop for sexual harrassment, there was a recent incident at the station where he allegedly went after Snooki the Intern when she needed to have her zipper adjusted. She asked Sid to do it and he did. But there was some discussion on the show about whether anything else went on besides a simple zip-up.
Based on his obvious desire to show his love to girls he works with, here are some possible nicknames that might fit Sid a little better than Sidphilis:
- Sid the Flirter
- Sid the Grabber
- Re-Sid-ivist
- Sid the Zipper-Upper-Feeler
(No offense Sid, you're awesome)



More music: Yay or nay?
Starting the week of Sept. 20, we now get to hear more hit music played during the show, like songs by Katy Perry, Bruno Mars, Taylor Swift and Jason Derulo. The new music has primarily been added to the first (6-7 AM ET) and fourth (9-10 AM ET) hours of the show. This means a little less content from the MJ Morning Show crew. But research has shown that radio listeners like to hear music over pure talk in the morning.

Vote in the pol below l to let us know what you think about this change or post a comment on the FORUM about it under the thread titled "Way More Songs?"


Kudos to the crew for raising over $100,000
The MJ Morning Show crew deserves some major kudos for what was perhaps the biggest charitable effort they have ever been involved with. On Friday, Sept. 17, MJ announced that the crew had raised exactly $102,364.17 for the Curtis/Kocab Memorial Fund. This was a fund created for the families of two fallen police officers who were killed in the line of duty on June 29 of this year. David Curtis and Jeffrey Kocab, both members of the Tampa Police Department, were shot to death during a routine traffic stop just after 2 a.m. that morning by 24-year-old Donte Morris.

The crew raised this incredible amount of money by selling memorial t-shirts for $10 to listeners and members of police departments around the country. They sold a total of 14,048 shirts. They sold them online at MJMorningShow.com. They sold them through New Balance shoe stores in the Tampa Bay area as well as at the Clear Channel Outdoor billboard complex in Clearwater. They did a live four-hour broadcast and sale on a Saturday over the summer in the radio station parking lot. They made an appearance at a Rays-Yankees game at Tropicana Field and had several stations throughout the stadium where they sold the shirts. In all, it was an amazing team effort to raise some much-needed finances for these two families whose hearts were broken when they lost their sons, husbands and fathers while serving the community. Congratulations to the MJ Morning Show and everyone else who took part in this endeavor.

UPDATE: The final amount donated to the fund by MJ and Tampa Police K-9 officer Jason Tkach was $109,684,17.



Episode Review: Pitchmen starring the crew
The second episode of this season's Pitchmen series titled "Heart Wrench" on Discovery Channel finally aired on Aug. 26. This was the show that starred the MJ Morning Show crew and covered their InventorQuest 2009 event from last November. I finally got a chance to sit down and watch it. Here is my take on the episode:
MJ got plenty of face-time, as expected. The shots of him sitting next to Anthony Sullivan seemed reminiscent of when Anthony and Billy Mays would sit side-by-side, observing the pitches from inventors. However, I think the show had a little more subdued feeling to it without Billy there. I'm afraid to say it, but Pitchmen without Billy Mays could be similar to American Idol without Simon Cowell. However, I really like when Sully is on MJ's show. He is always entertaining (and was even dumped once!). His sense of humor really shines in that type of environment compared to this slightly more serious kind of show.
There were several nice shots of MJ and the crew in the studio, plus a close-up of the 93.3 FLZ radio station logo on the wall. It was definitely some free advertising on national TV that Tommy Chuck was probably salivating over.
The story of Hunter, the 16-year-old kid who invented a cool wrench device, was the most compelling part of the show. It was great to see how much his success meant to his parents through the emotion they expressed. The producers also did a nice job telling the story of his struggle along the way (was his crying real though?) and how elated he was to find out that he could indeed get a patent for the product and market it in the end after a little tinkering with it.
Was anyone else squinting their eyes watching the people pitch their products in front of Sully and MJ? That white background was way too bright – and probably edited in during post-production.
Even though Meredith was shown just for a second, how many people can say they have had their face shown on Discovery Channel? Very few in the grand scheme of things. I still think Fester deserved more face-time though because he was the main guy behind the whole InventorQuest event.
The guy who does the voice-overs on the show is too monotone and a little goofy-sounding. I think there are plenty of better voice-over guys (or girls) out there who could make it sound more interesting. His voice was almost putting me to sleep.
Memo to the crew: Acknowledge your days off
Dear MJ Morning Show crew:
This is something that has bugged me for a while now. The reason I'm bringing it up is because it happened again on Monday, Aug. 30.
In the last year or so, MJ and the crew have taken days off without acknowledging that they will be out. Listeners are then left hanging, not knowing whether the crew is on vacation, is out for personal business or because of some other reason. We all know the entire crew has other obligations in life. Things come up that have to be taken care of. It happens to all of us. And in all honesty, I really don't care what they are doing on these days off. It is none of my business to know, either, unless of course they talk about it on the show like they usually do after their long vacations.
But I do have one simple request to pass along to my favorite morning show crew: can you guys at least tell us when you are going to be gone and a best-of show (or music on Z1077) is going to air instead? For big fans of the show, it is very disappointing to wake up hearing bits from months ago. But at least that disappointment can be eased slightly if we as listeners can expect to hear repeats and know that they are coming. Surprise best-of shows are no fun, period. Thank you for your consideration.
Signed,
Greg Lindberg

Your #1 fan
It's official: Pitchmen episode to air Aug. 26
My apologies for posting several different dates on here about when the Pitchmen episode with the MJ Morning Show crew will air. A final date has been set: the episode will run on Thursday, August 26 at 9 p.m. Eastern on Discovery Channel (with repeats at midnight the same night and on Sept. 4 at 3 p.m. ET).

You might recall that last November, MJ and the crew held a giant pitch-a-thon called "InventorQuest" at the Ritz Carlton in Tampa. They worked with pitchman extraordinaire Anthony "Sully" Sullivan, who was the sidekick of the late great Billy Mays on their very own show on Discovery that premiered last summer. The network has already started airing season 2 of the show that takes viewers behind the scenes of inventing, pitching and marketing cool products on TV. The network shot a bunch of footage at the event and in the MJ Morning Show studio. The footage is scheduled to air during the second episode of the second season. The title of this episode is "Heart Wrench" because it includes footage of a 16-year-old boy who has had five heart surgeries and came up with a new wrench invention. The show will follow a new episode of Deadliest Catch - one of the highest-rated shows on cable. According to Sully, this is great news because this episode was supposed to run later in the season. He said there will also be footage from the morning show event featured in another episode.

So mark your calendar and set your TiVo for a rare national TV appearance by the morning show crew. Apparently MJ, Fester and Meredith (whom Sully allegedly dated) will get the most face time during the episode.
MJ plans to race the interns again
Remember "The Race" between MJ (age 42 at the time) and Unitard the Intern (age 20) from the summer of 2008? That is what the video above is of - and clearly you can see MJ beating Unitard by a mile in this special 66-yard dash in the radio station parking lot.
Now, MJ has been challenged by Stephanie and Vicky the Interns to another race. Will it actually happen? Let's hope so. We will see if MJ is still in tip-top shape like he was two years ago and if these girls can do better than Unitard did in representing their intern status on the show. Stay tuned for more details on what will hopefully be another fun race to watch. Fester suggested doing it at a school track so they have more room.
Fester's wife's feet will be in a commercial
Fester's wife Allison seems to be much less of a broadcasting personality than her husband. But believe it or not, she will star in an upcoming national TV commercial - although her face probably won't be visible in it. Instead it will be her feet that will appear in a spot for "Heel-Tastic" - a moisturizing roll-on balm that is supposed to help and prevent dry, cracked heels. According to Fester, the commercial will have a winter theme to it, and Allison and others will be walking through "snow" in order to demonstrate the product's effectiveness. He said to shoot the commercial, the production team had her stand in front of a white backdrop and then asked her questions about the product and how well it works. She really does use "Heel-Tastic" and loves the product because of her flakey feet, so it's not something she is doing for show. The commercial is supposed to hit the airwaves in the next few months. Anthony Sullivan is also involved in marketing the product.
Allison is not new to the TV business. Several years ago, she used to be a model on the Home Shopping Network based in St. Petersburg, Fla. where she showed off jewelry and other products on camera. If her skills at HSN are as good as the ones she has in this new foot commercial, it should be a hit.
Happy Birthday Dave the Dwarf!
On July 5, we'd like to wish Dave the Dwarf a very happy 46th birthday! According to Dave, he is now the oldest-living person with the kind of dwarfism that he was born with. Dave will be featured in a new bit called, "What will the dwarf do next?" The crew is going to film him doing various activities and post the videos on YouTube, hoping that they might become viral. Stay tuned for those.
If you missed it, check out Dave's appearance on Tyra Banks a few years ago here. He was with his girlfriend Jessica who he's apparently still dating today.
Froggy 1 and Mary -- we wish you the best
Two former members of the show are dealing with some pretty serious health issues right now. Froggy 1, who was part of the old MJ & BJ show from about 1994 to 2002, was diagnosed with acromegaly this year. It's a disease that causes enlargement of the body, specifically the arms, legs, feet and head. Froggy is scheduled to have brain surgery to help stop the effects of the disease on June 23 at Shands Medical Center in Gainesville, Fla. If all goes well, the changes to his body should stop and there is a chance his body will reduce in size and he will look normal again some day.
Mary the Bull-Dyke - a name she doesn't mind being called - was an intern on the show in 2002 and 2003. Mary did one of the funnier on-the-street bits when MJ sent her to various places of business and had her ask to be directed to the bathroom. A few times, she was directed to the men's room. Since leaving the show 7 years ago, Mary was diagnosed with multiple sclerosis and now has Stage 3 breast cancer. She was recently on the show and said she has a long road of treatment ahead. She was also only given 5 years to live.
From everyone here at the MJ Fan Page, we'd like to wish both Froggy and Mary the best in their efforts to beat these diseases. And knowing both of their personalities, they will put up a good fight.
UPDATE: Froggy's brain surgery was successful. The surgeon was able to remove one of the two tumors he had that was close to his carotid artery (near his heart). He is supposed to have radiation treatment to help treat the other tumor that apparently is too difficult to remove with surgery.
Fester to be featured on The Weather Channel
Perhaps Fester's big break in TV is on the horizon. And ironically, it looks like one of the most unlikely of networks has come calling.
Howard, a segment producer for the popular weather network based in Atlanta, recently came across the website for Fester's "On the Grill" weekend radio show (www.onthegrillradio.com). His show airs in Tampa, Melbourne and on XM Satellite Radio. Howard wanted to have someone - preferrably a grillmaster like Fester has become - grilling up some tasty food out on a beach during the morning hours of Saturday, June 19. They will do periodic cut-ins throughout the morning from 8 a.m. to noon as part of a summer kickoff series on the network.
To add a little fun to the segments, Fester plans on having Dave the Dwarf make an appearance. He will also be using his gigantic 20-foot grill for the feature and joked with Howard about grilling up Jim Cantore, the wacky meteorologist who is willing to put himself in the middle of storms and risky situations.
So be sure to tune in or set your TiVo to record a few hours of The Weather Channel on the morning of June 19. Hopefully it will happen for sure and Fester will make it entertaining, just as he did during his last big TV appearance for "InventorQuest" last year.
We have a winner in the MJ Morning Show Trivia Challenge. For the third time in a row, it's Amber Tardino of Highland, Illinois. Congratulations Amber! You definitely know the show more than anyone else who has entered these contests.

I would also like to congratulate Kelly Pfadenhauer from St. Louis, MO for her great effort. She finished in second place and was only one question away from tying Amber after the tiebreaker questions. Thanks to everyone who entered the contest!

Here are the answers to the first round and tiebreaker questions:

ROUND 1 QUESTIONS:

1. What is the name of Dementia Don's gay grandson? Alphonso (or Alphie)

2. What heart condition was Fester specifically diagnosed with during his hospital stay earlier this year? Atrial fibrillation (irregular heartbeat)

3. What is Sid the Intern's nickname that he hates? Sidphilis

4. Who was the show's audio producer right before Meredith got the job? Ryan Seacrust

5. What did DilBrett the Intern recently have surgery to correct? Deviated septum

6. What did BJ admit to doing when he came back for the MJ & BJ reunion shows? Cocaine

7. What song did Dave the Dwarf sing to a woman as a surprise on her birthday? "You Are My Sunshine"

8. A friend of the show was recently diagnosed with a 1-in-10 million disease called what? Acromegaly

9. In Froggy's crank calls, where did the Stoner Guy work? A record store

10. What is the name of Dave the Dwarf's girlfriend with whom he appeared on the "Tyra Banks" show in 2008? Jessica

11. In which month of this year did the show go live in St. Louis on Z1077? March

12. What is the name of the song that Laura, an MJ Morning Show listener, sung and had a video produced for last year? "Villains"

13. Froggy chose not to do the Eggnog Challenge in 2009. Who did it instead? DilBrett the Intern

14. Whenever MJ asks questions to crew members
or callers, he plays the theme music from which
1970s game show? "Match Game"

15. What is Snooki the Intern's real first name? Sarah


TIEBREAKER QUESTIONS:

1. DilBrett brought two items to Froggy's house when he was sick. What were they? Coffee and donuts

2. How many total eligible entries were there in Fester's Big Ass Contest? 28

3. What nickname did Sid the Intern recommend he be called instead of Sidphilis? The Siduation

4. What instrument has MJ played on and off in recent years? The violin

5. Which state was Meredith born in? New Jersey

6. What nickname did MJ recently give to Dana the Engineer? Sherman Klump (from The Nutty Professor)
Froggy hospitalized again - this time with ulcers
The Froggy health saga rolls on. The guy has become notorious for having health issues, and at 30 years old, he must be a little concerned about his overall health prognosis.
Froggy missed the show on Friday, May 21 after texting Fester and Hurricane early in the morning to say that he would not be coming in because he was sick. MJ was a little suspicious about whether Froggy was really sick or was out fishing with Big Lou, so he sent DilBrett the Intern to his house that morning with coffee and donuts. Kim answered the door and told him to leave, which made MJ's suspicions even greater. But when DilBrett went back to the door for a second time, Froggy yelled at him and dropped the f-bomb, which MJ had to dump on the air because it was audible over the phone. It became clear at this point that he was home and probably sick.
Later in the day on Friday, Froggy started vomiting blood. He was taken to the hospital and was admitted to the ICU with two stomach ulcers, one of which was bleeding. Apparently he has been popping Excedrin - up to 6 pills a day for the past 20 years of his life - because of his severe migraines. But the medication has had an adverse effect on his stomach and is likely what has caused the ulcers, although his wife Kim thinks stress from the morning show has played a role as well. He spent two days in the hospital and was released on Sunday.

To add insult to injury, Meredith said on the show Monday that Kim had picked "a real winner" for a husband because of how many ailments Froggy has suffered from since they've been married. Kim said she had "no comment" on the remark when MJ asked her about it later. MJ also called Froggy while he was sick and left a voicemail asking whether he would have a crank call for Monday morning's show. Both Froggy and Kim were not happy about the joke.

UPDATE: Froggy returned to the show on Wednesday morning. He said while suffering the ulcers, he named one of them Mark (the bleeding one) and the other one Paul.
An Odd Newscast with Martin Giles
Martin Giles, who has been in broadcasting for decades, is the local news guy on 93.3 FLZ. He provides updates throughout the show during local breaks. In a recent newscast, MJ asked him to say "douchebag" during a moron story, but he refused. Martin then asked whether Mucus (aka. Marcus, Meredith's boyfriend) is a real person after they mentioned that he sent Meredith a fruit basket during the show. Listen to the clip of the awkward and odd exchange.
Dave Reinhart, longtime WFLZ GM, dies
Longtime listeners to the show probably have distinct memories of Dave Reinhart, the general manager of 93.3 FLZ in Tampa for 14 years until he retired in 2004 and Tacoboy took over. MJ & BJ (and later just MJ) would frequently call and harass Dave about everything from bits that they wanted to pull off to just wanting to get a rise out of him. Dave also put the kibosh on several stunts that MJ wanted to do on the show but that Dave did not approve of.
Sadly, Dave passed away on May 2, 2010 at the age of 67 following a long battle with a neurological disease. He is survived by his wife Joanie and children.
Check out this audio clip on YouTube of when Jason the Buffoon Boy took a lawn mower into Dave's office and started mowing everything in sight. You won't believe Dave's reaction when you hear it at the end:
Where in the world is Ryan Seacrust?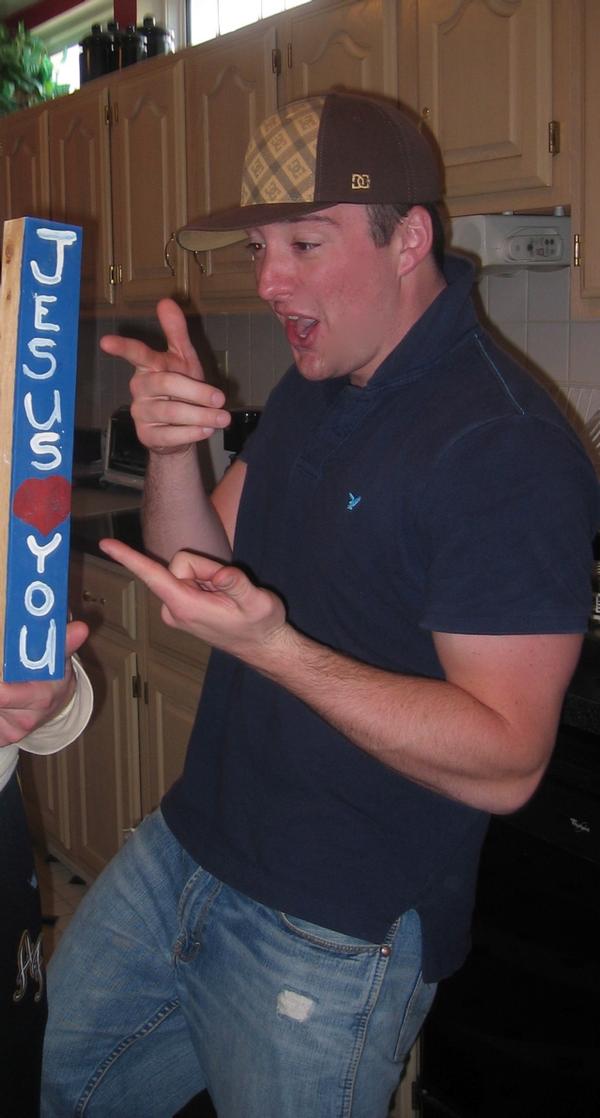 Former audio producer Ryan Seacrust abruptly left the show on the morning of Nov. 2, 2007. He originally replaced Flunkie (whose demand for more money fell on deaf ears) and Meredith eventually got Seacrust's job. A big thanks to Ryan for taking some time to answer a few questions about what his job on the show was like, why he left and what he's up to these days:
Why did you leave the MJ Morning Show so abruptly after only working on it for a few months?
"I left the show because, simply put, it wasn't for me. I knew the position wasn't the best fit for me from the get-go, but I wanted to further my career and be in Florida. The experience was one I will NEVER forget. It taught me a lot. How to and not to treat people, how politics can run a show regardless of what the right thing to do was, that you should get your job description and anything promised on paper because after that there's no pressure for anyone to do anything they said they would, and mostly your damned if you do and damned if you don't. On top of that, the stress over things that were so minute did not correlate to stress on the important things."


Do you regret the way in which you left the show?
"I definitely don't regret how I left. It could have been handled differently, a little more professionally, but in retrospect anytime I was asked why I left the show [for a job interview - especially in radio], people completely understood."


Is there anyone from the show or 93.3 FLZ that you want to thank?
"I thank my very good friends Ratboy and Staypuff (93.3 night jocks) for helping me get the job, Tommy Chuck and the entire management staff including MJ for hiring me. Don't get me wrong, I give MJ props for creating the brand he has, it just wasn't the right brand for me."

What kinds of jobs have you had since leaving in the show?
"I've worked in marketing for PlayStation, Geico, Energizer and T-Mobile. I also worked for a beach bar in Tampa. I made a lot of good connections there as a manager and then stepped down to bartend. After that I scored a contracted gig working for Vitamin Water as a Team Leader for their marketing team on the west coast. I made a lot of good Friends and did a lot of great networking."

Now most importantly, I am back in radio in L.A. at 97.1 AMP Radio. It's not a full time gig but I usually have 40+ hour weeks and get to do everything I love to do and work in an awesome environment. From voicing commercials, to writing blogs, to editing videos, to jumping on air, everything I love. You can check out my work at http://www.facebook.com/l/8592b;amp.radio.com/2010/01/11/amp-tourage-ryan/ I'm also writing stand-up and working as a freelance host and editor."
MJ Morning Show Bio Blast: Meredith
Age: 25
Hometown: St. Augustine, FL
College: University of North Florida (yes, she actually graduated)
Joined the show: November 19, 2007 (produced it in Jacksonville before that)
Position on the show: Audio producer/executive producer
Known for: Being "Mereditz," dating lots of guys, getting excited about everything ("Woohoo!"), having a fling with Flunkie, slow at finding sound effects, having a low tolerance for pain
Notable bit(s): Name That Tune or Get Shot with a Pellet Gun
Notable audio clip: Meredith screams
Dana the Intern in Low Sex Drive Commercial
Listen to a commercial in which Dana the Intern does a voice-over for a company doing a research study for women with low sex drives. Her voice is the third female voice in the commercial, and she says, "I don't have the same sexual desire I used to." Do you think she really has a low sex drive or is just doing the voice-over for this commercial? Based on some of her stories on the show, she's probably doing just fine in that department!
The Health Watch continues with Froggy and Hurricane
It's time for another MJ Morning Show Health Watch - this time wtih the always-lovable and funny Froggy and with the technical genius behind the show, Hurricane! We've heard about Fester and Meredith having health scares in 2010, so why not add two more crew members to the disabled list?
Recently while kayaking with his wife Kim, Froggy started to experience severe pain in his lower back. He compared it to kidney stone pain, which is obviously pretty intense. He then heard a little snap in his back, he started to experience tunnel vision and before he knew it, he could hardly catch his breath. He then started vomitting - probably the same way it sounds in the sound effect they play on the show.
His wife asked him why he was "puking while kayaking," as if she thought it was just weird and that he did not have any major medical issues going on. They finally got back to the shore, which took 15 minutes. They went home and she had to carry her helpless husband into the house. Froggy then laid down on the bed and felt like he was paralyzed. On their three-year anniversary. He got up to go to the bathroom. His wife called 911 and the ambulance pick him up and took him to the hospital where they gave him some shots in his butt. They diagnosed him with a pinched nerve in his lower back. They gave him Vicodin to take for pain - the same drug Rush Limbaugh was hooked on a few years ago. Let's hope it doesn't affect all guys in radio the same way.
Hurricane has also had complications from wisdom teeth surgery. He recently said on the show that he will also have to take pain medication because one of his teeth got wedged into his sinus cavity, and the surgery to remove it wasn't totally successful.
That means that MJ is the healthiest guy on the show. He better maintain his health because he did agree to run in the New York City Marathon later this year since pitchman Anthony Sullivan helped pay for the show's "Breast Christmas Ever" contest last year. If MJ gets hurt or has any kind of medical issues, his chances of running in that race could be greatly hindered.
Meredith hospitalized Monday with appendicitis
Just weeks after Fester's stay in the hospital following a severe illness and heart trouble, another member of the show is in the hospital. Meredith was taken to the emergency room on Monday morning (March 8). She was experiencing severe abdominal pain at about 5:15 a.m. Monday, so she drove herself home. Her current boyfriend Marcus (whom MJ calls Mucus) then came to her place and took her to the ER. They had her on the show throughout the morning getting updates on her status. She was given Demerol and several other painkillers. After a CT scan and a slew of other tests, doctors determined that she had appendicitis and would need to have her appendix removed.
On Monday afternoon, she had a laparoscopic appendectomy to remove her inflamed appendix, which took only about 45 minutes. MJ went to see her at the hospital on Monday night. According to Meredith, she could be off the show for a few weeks while she recovers. MJ was hoping she could come back within a few days. The crew will be on vacation the week of March 15, so if she heals up fairly quickly, she should be back to work at some point the following week when the crew is back live.
MJ walks off show after crew's unpreparedness
On Thursday morning, MJ opened the first segment of the 7 a.m. hour planning to talk about Chat Roulette - the latest fad on the Internet where people can view webcams of others around the world. He wanted to hook it up live on the air, which the crew had done a few times before, to demonstrate what it was like for listeners who hadn't heard about it. When MJ asked Hurricane why the crew did not have a webcam ready to go for the segment, Hurricane replied that MJ should take it up with Tommy Chuck, the program director. MJ then said, "You know what guys? Do the damn segment yourself." Meredith and Froggy then stumbled to play a song, which was "I'm A Be" by the Black Eyed Eyes. They went to a commercial break after the song and then came back with a best-of segment. Shortly into the segment, MJ cut back in live. He argued with Fester and the rest of the crew about how unprepared they were for the bit he wanted to do. He then took calls from listeners about what happened. Some supported him while others felt his actions of walking off the show were unprofessional.

Click here to listen to what happened (note: file is 42 MB)
Click here to hear the last time MJ walked off the show. It was in July 2007 after management cancelled his big plans to give away copies of the new Harry Potter book in the radio station parking lot.
A Classic MJ vs. Fester Argument
Arguing isn't always funny. But when a fat guy like Fester screws stuff up and MJ calls him out on it, you've got to admit that it can be entertaining to hear. Listen to a recent argument between MJ and Fester that came about when Fester was unprepared to play the Super Bowl commercials on the show.
The Egg Test Was Right!
Once again, the MJ Morning Show's Super Bowl
Egg Test predicted the winner of the big game. The
test said that the Saints would win (since their egg did
not explode first), and they did win, 31-17 over the Indianapolis
Colts!
Froggy's '02 Altima engine dies on bridge
Froggy has always been known as a slow driver. Even though MJ says he is sometimes a "reckless" member of the morning show, he has an odd way about him when it comes to driving that is probably more like Dementia Don would drive than a 30-year-old guy. But this had nothing to do with why the engine died in his 2002 Nissan Altima. A few days ago, he was on his way to an auto repair shop to have the car checked out after it kept making a loud rumbling noise every time he gave it gas. Since he can't read maps, Froggy followed Fester to the place from the radio station. As Fester kept driving, he noticed that Froggy was getting further and further behind him. Eventually he lost sight of Froggy's car. So he called him up and found out that Froggy's engine had died while he was going over a bridge. He came running to Fester, who was about 200 yards away, and was crying like a baby. After only 112,000 miles, the car is now a total loss and he'll have to buy a new one, which he doesn't want to do because he hates dealing with car salesmen. MJ agreed to help him out and find him a car so won't have to deal with the hassle of getting one himself.
Fester hospitalized after fainting while walking dog
Fester has never been known for his great agility or physical prowess. But his clumsiness did not have much to do with a fall he suffered on Monday afternoon while walking his chihuahua Bailey outside. Earlier in the day, he got up extra early for work but felt light-headed and passed out right outside his bedroom. He drank fluids, ate something and felt well enough to go into work. But while on his way to the radio station, he had an "accident" in his pants and decided to turn around. MJ called him and he said he was feeling better, but after checking in with him later in the show, he said he was started to feel queezy and sick to his stomach again. Later in the day, he collapsed twice and hit his head on the pavement in front of his house. Initially he thought he had only cut up his knees, but his wife Alison noticed blood coming out of his head.

He was taken to the hospital and spent time in the Intensive Care Unit (ICU). He was being treated for the injuries suffered to his head, but on a more serious note, doctors discovered that Fester had atrial fibrillation - an irregular heartbeat. This is most likely what caused him to black out. three times. But doctors seemed to link his heart issue to the fact that he had a stomach virus, which was hampering his immune system and made his body and heart weaker. The good news is that it is a very common condition people experience and recover from in a short amount of time.
Just like the past 15 years, the year 2009 on the MJ Morning Show had its ups and downs, its good times and its bad times. Even some surprises were thrown in along the way. But overall, it was another pretty enjoyable year of "crapcasting" (as MJ would say).
The year started off with a downer when, on January 20, Joey B was one of 1,850 employees laid off by Clear Channel. It marked the first time the show would be without a full-fledged executive producer. Guys like Hoover, Derek and P-Boy held the position before Joey, but at this point we can't really add any new names to the list since Joey's old duties are now split up among the entire crew. Fortunately for Joey, he landed on his feet and is back working at Wired 96.5, a station in Philadelphia.
The show was involved in a few big news stories as well that made national headlines. MJ had two interviews with celebrities he wasn't too fond of interviewing but thought they'd be popular among the listeners. First, over the summer, Miley Cyrus hung up on MJ when he asked her a simple question about whether comedian Jamie Foxx had apologized to her directly for comments he made about her on his satellite radio show. Just a few months later, MJ interviewed Taylor Swift whose handlers shut down the interview after MJ prodded her about the whole Kanye West incident at the MTV Video Music Awards. Finally, the crew got entangled in a story about Jon Gosselin. Fester apparently put in a request to have the former "Jon and Kate Plus 8" star on the show, and he allegedly asked to be paid over $12,000 for the appearance, which he later denied.
Starting in the fall, MJ began playing more music on the show. This was a result of the show getting chopped up on its syndicated broadcast on Z1077 in St. Louis. Many listeners resented the music, and eventually MJ started playing less and less of it, dropping numerous hints to management on the air that he was not thrilled about losing quality broadcasting time on his show just to fill with songs.
For the first time in over eight years, BJ was back in the studio with his old sidekick as the MJ & BJ Morning Show returned on Oct. 22 and 23 for two special reunion shows. BJ made some major revelations about how he was addicted to cocaine while working on the show, which ultimately split up the successful morning duo in early 2001. He has co-hosted his own morning show for several years on a station in Denver. MJ alluded to the fact that this might not have been the final time the two would be together on the air.
The first annual InventorQuest took place on the show in November. Pitchman extraordinaire Anthony "Sully" Sullivan and his Discovery Channel crew came to Tampa for this event in which listeners and inventors from all over the country pitched their products to the crew, and the best products were selected for an on-air pitch-a-thon. Sully selected several products that he plans to eventually pitch on TV. Footage from the entire event is expected to air during the second season of "Pitchmen" next year.
The year ended with a busy show on December 18. DilBrett the Intern took over for Froggy in the annual Eggnog Challenge, which was uneventful as he gave up midway through the challenge and didn't even puke on the air. (This is usually the best part of it anyway.) But the main event that day was the fiery blaze in the radio station parking lot. The van the crew used for the turkey fryer fire caught on fire prematurely, and the fire department had to be called to put it out, making Fester's future with the show uncertain due to his contract being up, his primary involvement with the stunt and a subsequent investigation by state officials.
Because we don't know whether Fester will return in 2010, the show could be different next year. Losing both Joey and Fester would have major implications on how well the show succeeds. Unless Clear Channel hires someone else to join the show – an unlikely scenario with all the recent layoffs – we could be listening to just a few voices on the show in the new year.
For the show's first-ever Zhu Zhu Pet giveaway for the holidays, MJ used several keywords to give out the popular toys to eager listeners on the air. Listeners had to text these keywords to the crew (97720 is the number) in order to win a Zhu Zhu Pet. The crew gave away about 100 of them to listeners and a few dozen to children at Shriners Hospital and All Children's Hospital in the Tampa Bay area.

Here are the words they used for the giveaways:
- Crotch pizza
- Fart filet
- Mullett
- Poop finger
- Mung
- Yule log
- Nutcracker
- Fungus face
- Nub
- Armpit
- Zit
- Meat
- Vodka
- Ho-ho-ho
The Turkey Fryer Fire Fiasco Recap
All Fester wanted was a fire. Not a big fire, but something significant enough to be somewhat entertaining and also easy enough to manually put out with fire extinguishers. He got a fire all right, but it was too much to handle.
On the morning of Friday, Dec. 18, Fester tried his hand again at the second attempt of the year to start a turkey fryer fire. The first one, which was done right before Thanksgiving, resulted in a mere fizzle – the same result he achieved in 2006. Only the 2008 attempt was successful, and Fester wanted to make it work on the last live broadcast of the show for 2009.
The crew got an old van from Henry Gonzalez Plumbing and equipped it with living room furniture, including a couch and an inflatable snowman. They did this to help demonstrate how some people are now living out of their cars due to foreclosures on their houses, and in turn, some people might be tempted to fry a turkey in their cars more now than in a better economy. They also had sponsorships from Stepps Towing and Beef 'O' Brady's for the second rendition of the event.
While Fester was preparing for the demonstration, the van caught on fire and was burning for several minutes before the turkey was even dropped into the fryer in the van. MJ noted this on the air and then took a break and went outside to see it. They came back from the break and were broadcasting live from the radio station parking lot when they finally decided to lower the 12-pound turkey into the fryer using a 30-ton crane. But it didn't seem to cause much of a fire than what had already been burning. Fester suggested that they call 911, but MJ insisted on using the 10 fire extinguishers they had on site to put out the burning van. None of the main crew members wanted to call themselves, so they chose either Tommy Chuck or an intern to make the call. It was finally Dana the Intern who called 911 around 8:20 a.m. ET and the fire department arrived just a few minutes later. MJ obviously did not want to get firefighters involved so as not to bother them with the stunt, but there was no way they could extinguish the growing fire themselves.
When they arrived on the scene, MJ and Fester tried talking to the firefighters on the air while they were working. They had no interest in talking to the crew. Once they all cleaned up most of the mess and got back into the studio, Tommy Chuck came in and stated that Fester was to be "removed" from the show. He did not indicate if he was being suspended or fired, however. Fester was gone for the rest of the show. They texted him some questions and all he could text back was that he had been "relieved" of his duties.
After the stunt, which was streamed online via Ustream, MJ did acknowledge on the air that an ambulance was in the parking lot, in addition to the fire trucks. He wasn't sure why it was there, though. Local news reports indicated that a firefighter and a radio station employee had been injured, but they later retracted some of this and reported that only a firefighter had hurt his back while handling a fire hose. He apparently slipped on the ground since it was raining that morning.
At the end of the show around 10 a.m., MJ said, "We'll maybe see you here after the first of the year. We'll see what happens." The crew (with or without Fester) is expected to be back live on Monday, January 4, 2010. But apparently the Florida State Attorney's Office is investigating the incident, so who knows what will happen. We probably won't hear any more about this until they get back from their two-week vacation.

NEWS COVERAGE OF THE STUNT AND AFTERMATH:

WFLZ turkey-fryer stunt injures firefighter (Tampa Tribune)

State fire marshal, state attorney look at WFLZ-FM radio stunt gone bad (St. Petersburg Times)

Firefighter injured during radio stunt (WTVT-Fox 13 Tampa)

Robert van Mierlo is a 39-year-old MJ Morning Show listener from St. Louis. The longtime fan of the show has recently showered Meredith with gifts and has expressed a deep desire to go on a date with her. In this MJ Fan Page interview, Robert explains why he is in love with Meredith and what his motive is for buying her gifts:

When did you start listening to the MJ Morning Show?

Since the MJ & BJ days, I've been living in St. Louis since the age of two and when they became part of my life, I was loyal from the get go.


Why do you like the show?

I love the show because it's not only the funniest show on FM radio but I can relate to Froggy. We have a lot of interests in common such as being "Back to the Future" fans. Besides that he has the same personality as I do once you get to know me. I have made Froggy my go-gay guy if I was gay, which I'm not.


Have you been attracted to any other past females or interns on the show? If so, who?

Only Dana the Intern and not because of her large tic-tacs. She seems to like older men like Meredith, which gives me the edge. We are good friends and talk off and on via Facebook and phone when she is not interning during the show.


Why do you like Meredith so much?

I like Meredith because, like I told them live on the air, she is wonderful, she is incredible and deserves the utmost respect from any guy she dates. She is charming and a true sports fan, which I like in a lady. She is brilliant though the show makes her look dumb. If any guy treats her like dirt and is a cheap-ass in front of her mother, they deserve small wieners! With that said, she is the type of lady I like and would be in Heaven if I got the chance to date her.


What has your dating history been like?

The last long-term relationship I had was three years ago with a girl named Ashley. She just wanted me for my money and never wanted to be seen with me in a public place. So I dumped her within the first month of our relationship. Since then I've been single and dateless. Perhaps it's because my looks and I don't like competition as well but would give it a try if I had to. If a guy had a six-pack and walked into the room with Meredith and I if we were dating, would I get jealous? Not at all. But I know Meredith would pick the guy with the six-pack over me. I do consider myself handsome though. I have told Meredith she could date any guy she wants – we don't have to be serious. Just being part of her dating cycle would be a dream come true for me.


What would it mean to you if you could date Meredith?

If I could date Meredith I would be the happiest and luckiest guy on Earth. Though I am already the happiest and luckiest guy on Earth, this would put the adorable in my life.


What are all the items you have sent her, and how much total money have you spent on her?

I bought her three necklaces and the last item was a $1,000 1-ct diamond ring, which was an engagement ring. But since she is hanging out with Sully in Mexico and who knows where else, I need to show her I am interested in dating her. She wouldn't know anything about me if I didn't make a chance to show her who I am since I live in St. Louis and Sully is in Florida. I have no problems, like I said earlier, Meredith can date anyone she wants, I just want to be in her dating cycle like I said. I have no chance if Sully ignites her flame though which in some ways seems to have already become a reality. Since Meredith seems to like older men as well, I would love to show her to my St. Louis Blues hockey games and all!


What else could you be buying with this money?

I have everything I need and if I want something I would buy it myself. At least Meredith knows if I ever met her mother during dinner on an important date that I WOULD be capable of paying for the bill.


What would you say to people who call you a "stalker?"

Don't judge a guy you know nothing about. I never put a label on someone I don't know. That said, I labeled Hurricane one time but took it back and was sorry I ever did that. It was over the fact that MJ kept saying Hurricane was whining about his salary and his job. Now Hurricane and I are great friends as well. We talk via e-mail here and there and I would buy him a Bentley. Meredith and I talk via Facebook and e-mail but not the phone yet. I'm not counting on the air. I would treasure those days if they ever come true.
NEW BREAST CHRISTMAS EVER JINGLES
Check out these new jingles for this winter's version of Breast Christmas Ever. These include parodies of today's most popular songs. Thanks to Mark Maynor of Monster Mix Productions in St. Petersburg, Fla. for letting me share these:

To listen to jingles from previous contests on the show, check out the Jingles and Songs page where you can also hear some old rap songs from Jabberjaw and Kristi the Apprentice during their rap duel.
Listen to this promo where MJ promotes the iHeart Radio application but then pokes fun at Meredith at the end. Wow, she actually does think it's easy to use! Who would have thought?
To promote the recent Pitchmen event, Fester appeared live on "Good Day Tampa Bay," a morning news show that airs on Fox 13, the local Tampa affiliate. Listen to Fester's appearance or visit this site to watch the video. Note the two times he says things you probably shouldn't say on broadcast TV.
Get ready to pitch your product on the show!
They've been talking about it for a long time. And now it will finally happen.
The MJ Morning Show will host a pitch-a-thon event on Wednesday, Nov. 4 at the Ritz in Ybor City, Fla. Pitchmen star Anthony Sullivan - the former pitchman partner of the late Billy Mays - will be on-hand for the inaugural event of its kind. Along with help from Sully's crew and members of the morning show, every person who attends will have a chance to pitch their product in 90 seconds. About 20 to 30 finalists from this event will be selected to appear in the studio with MJ and Sully on the morning of Friday, Nov. 6. During this time, they will come up with one or two people who will probably appear in an episode of the Discovery Channel show with their invention.
Because the show has so much appeal to eager inventors looking for a venue to pitch their products, MJ expects listeners and even people who don't listen to the show from all over the country to fly in to be at this special event. With one-on-one access to Sully and the TV crew, it should make for an interesting "Invention Convention."
Cocaine addiction led to split of MJ & BJ
We now know why the popular morning radio duo of MJ Kelli and BJ Harris were last together on Feb. 7, 2001. It was BJ's cocaine addiction that broke up the successful show.
On Oct. 22, BJ made his first visit to the studio he once worked in after almost nine years. He was even late getting there after his flight from Denver was delayed and he missed his connection in Atlanta to get to Tampa. MJ paid $1,735.09 for a limo to bring BJ and his girlfriend, Lisa, from Atlanta to Tampa (about 600 miles) overnight. BJ stepped up to a microphone in the studio at around 7:55 a.m. Eastern Time, finally sharing his voice on the air with MJ once again. In the following segment of the show, it did not take him long to reveal his major cocaine problem that flourished in the late 1990s. The two started the morning show in 1994, but BJ said the addiction was probably at its worst by late 1999 and early 2000.
He went on to discuss how MJ and management at the radio station did everything in their power to help him overcome the addiction. Both MJ and Dave Reinhart, former executive at Clear Channel-Tampa, even took BJ to the rehab center by themselves, sat in the waiting room, and waited for him to emerge as a new man. The rehab helped some but he quickly relapsed and hit another low point by late 2000. At that point, management at the radio station agreed that BJ would no longer be able to work because paying him to be an employee only fed his drug problem. On the morning of Feb. 7, 2001, BJ got up in the last hour of the show and quit. He was later given job opportunities in Chicago and Cincinnati and finally settled down at KALC-FM in Denver around 2005. That is where he now co-hosts a morning show with crew members Erica and Howie. But it is not a Clear Channel station.
BJ will be on the air again Friday morning for a more traditional show. MJ joked that maybe BJ would take over for him so he could focus entirely on his afternoon Schnitt Show, so maybe we'll hear more about that possibility as time goes on. Or at least we might hear more about some of the old characters on the show show and why the team worked so well together.
The MJ & BJ Show is back...at least for a few days
Longtime listeners of the show remember the MJ & BJ Morning Show fondly. From 1994 to 2001, the radio duo became one of the most-listened-to morning shows in the Tampa Bay area and made national headlines for stunts like the "MJ BJ OJ" billboards and the time they streaked butt-naked in downtown Tampa after the Buccaneers won their first five games in 1997.
In 1998, when Z1077 started syndicating the show, St. Louis listeners were finally exposed to the crazy antics, and the audience in that market caught on quickly.
But when 2001 rolled around, the popular duo split up. BJ left to work in another market, and the program simply became the MJ Morning Show. Many listeners wondered why the two successful hosts broke up a show that had worked so well for years. The main reason for the split that was reported in newspapers at the time was that BJ had been overworked. At one point, he was operations manager of 93.3 FLZ and a co-host on its morning show. He decided to leave the show and focus on a managerial position in radio. He left the Tampa market, spent time in Cincinnati and eventually landed at a station in Denver, where he has been back on the air for a few years as a morning co-host on Alice 105.9 FM.
MJ has rarely discussed why the two went their separate ways. But in his "major announcement" on Monday, Oct. 5, he and BJ both agreed that they will lay everything out for the listeners. BJ will be in the studio on the mornings of Oct. 22 and 23 to talk about what happened and just to enjoy a little MJ & BJ reunion. It should be interesting to hear the two back in action once again and find out what exactly went down during the show's first seven years and what caused the breakup. Plus newer listeners to the show (after 2001) will get to hear MJ & BJ for the first time together on the radio.
The MJ & BJ Morning Show crew in 2000
Left to right - Froggy #1, Fester, MJ, BJ, Dave the Dwarf, Joey B, Hurricane
MJ is now spinning the hits on the show
For years, the MJ Morning Show crew has prided itself on not playing any music, or maybe one song in the first hour of the show to give MJ extra time to map out the show for that morning.
But it appears those days are over - at least for now.
A few years ago, MJ said radio listeners wanted to hear more content. They did not want to hear one song after the next during their drive to work. They wanted to hear personalities talking about current events and doing entertaining bits. Apparently times have changed since then.
According to a new electronic ratings system from Arbitron (called the People Meter), radio listeners now want to hear more music and less talk in the morning. Management at 102.7 KIIS-FM in Los Angeles even told morning show host Ryan Seacrest to stop talking so much and to play a little more music. He balked at the idea but apparently has taken their suggestions to heart.
So MJ decided to give it a whirl with his show. He now plays one or two songs every hour, But the commercial breaks are slightly shorter than they used to be. Before the change, the show consisted of nine total segments, some of which were upwards of 30 minutes long. Now the show is divided into 12 shorter segments with about three commercial breaks an hour and two songs an hour. The songs are current Top 40 hits from artists like Pitbull and Kings of Leon.
Back in the early days of the show and up until about 2000, the MJ & BJ Morning Show played plenty of music every morning. They would routinely play a few songs back-to-back in each hour of the show. Sometimes you'd have to wait 10 or 15 minutes to finally hear the crew back on the air. Once they came back, they would fill the segments with top-notch entertaining talk that really made the show compelling. Maybe MJ will have to restructur some things to give the audience prime-time content throughout the whole show when music and commercials are not running. That is the best way to keep listeners who aren't particularly interested in the music he now plays.
The Taylor Swift Debacle: What's the big deal?
Some may say this website puts MJ on a pedestal. But don't most fan pages of any person or thing do that? I thought so.
Either way, I have to side with MJ on the whole Taylor Swift interview gone bad. Or maybe I should say I have to side with his actions during the interview. There is no reason Taylor should have expected anything else when it came to the radio interviews she did on the Friday following the Kanye West incident five days earlier. If she only wanted to give The View her first and only interview on the situation, why did she even agree to do a radio tour? She had to know - or at least made aware - that people wanted to hear more from her about what happened. And the one of the ways to accomplish that was for her to go on radio stations around the country to talk about it.
Maybe the reason people are upset with MJ is because they thought Taylor should have been coddled following the nightmare she had to endure at the MTV Video Music Awards. Showing more compassion for her might have been the appropriate thing to do. But as a celebrity or anyone in the public eye, you have to be able to answer the tough questions. Other celebrities do it. Athletes do it. It takes time to learn the ropes, and maybe Taylor is just naive at 19 years old. Hopefully she will learn how to handle hardball interviews better as she matures, even though MJ's was hardly that. A simple "no comment" to any of his questions could have sufficed.
Finally, what was the big deal with Taylor walking away from the phone? This interview was one of a dozen on that one day, and it is amazing how much press it got. The interview probably would have gotten even more press had she answered the questions she was asked. And it would have made for good publicity for both sides instead of the way it's been portrayed.
MJ and crew planning to team up with Sully on Pitchmen
The groundwork is starting to be laid for a potential deal for the MJ Morning Show to be involved in the upcoming season of Pitchmen. The Discovery Channel show, which was based on inventors pitching product ideas to the late Billy Mays and Anthony Sullivan, is expected to start taping its second season very soon. MJ came up with the idea to do a Radio Pitch-a-thon. If it works out, listeners will be able to call in and pitch a product. MJ will decide which people have the best ideas, and he will invite them into the studio. Sully will then be involved by hearing the top "pitchers" tell him their ideas and possibly demonstrate their products in front of him in the studio.
Sully said he really likes the idea and hopes his producers will also go for it. MJ thinks listeners from all markets and even people who don't listen to the show will want to be involved since it will be a prime opportunity for any inventors to get the word out about their products.
In other Sully news, Meredith finally admitted that she went out to dinner with him - but only once. Sully jokingly said that Meredith stood him up for a second date. Between the two of them, who knows what really happened.
MJ's vacation adventures in the Windy City
This summer, MJ went on a week-and-a-half vacation to Colorado and stopped over in Chicago for a quick visit. The story of the trip had nothing to do with the Centennial State - it was all about the Windy City.
While taking in the sights and sounds of northern Illinois, MJ took the family to Cortino's italian restaurant - a place recommended by the concierge at his hotel. Chloe had to go to the bathroom during dinner, so MJ took her upstairs to go. He sat down at an empty table about 12 feet from the bathroom to wait. He pulled out his Blackberry and checked some e-mail to pass the time, not realizing that the way he was holding it up almost looked as if the camera lens on it was aimed directly at the women's bathroom door. A guy came out of the men's room, saw what MJ was doing and started yelling at him. He called him a pervert and said he was going to tell the restaurant manager about what he thought MJ was doing. He even said he would tell MJ's wife about it. MJ told the guy to shut up and threatened to throw him down the stairs. When MJ stood up, the guy ran away. He said he was a scrawny guy and could easily defend himself against this moron. He couldn't believe that simply looking at his Blackberry screen a certain way would make someone think he was taking pictures of people in the bathroom or coming out of it.
MJ also visited the Tribune Tower with Julian, while Michelle took Chloe to the American Girl store. This building houses the Chicago Tribune and WGN radio. He saw some old friends he used to work with in Tampa and they showed him around the place. He went down to the "bunker room" seven stories underground. The only way to get to this private area is on an elevator, and there is no other way to get back up if the elevator is down.
Once again, MJ had another eventful vacation. We'll have to see what happens next time when he takes a few days off after Labor Day in early September.
On another note, MJ mentioned that he would love to live in Chicago and even insinuated that there could be some kind of deal brewing to potentially move him there.
How do Froggy, fishing and boating go together?
It's no secret that Froggy is a self-proclaimed lazy guy. He talks about how he likes to sit around in his underwear, drink beer and play Xbox 360 whenever he's home. A few years ago, he created the "Live Lazy" bracelets (a play on Lance Armstrong's "Live Strong" bracelets). Since Fester lost some weight, it seems like Froggy has taken on the title of being the laziest guy on the show that Fester used to be. In some ways, it's amazing that he is actually a married man.
So why in the heck would Froggy be interested in fishing and boating?
In the last year or so, Froggy has talked about how he and Big Lou find ponds all around the Tampa area to fish in. One time, some teenagers spotted the two fishing and called Froggy names because of how lame it looked for him to be fishing in what MJ described as a retention pond. Not long ago, a police officer came up to him and told him that he was trespassing when he was fishing in a lake. Froggy even talks about how he keeps up with national fishing tournaments and watches fishing shows on TV.
To fish, you have to have patience. It might take a few hours before you ever catch anything. Can you picture Froggy standing outside with a rod hoping to reel in a fish? Maybe it's like making a prank call. You have to make multiple attempts before you get someone to "bite" on your prank, just like with fishing.
As for boating, maintaining a boat requires even more work and patience. Froggy has talked about buying a boat for a while now. But in order to use it, you have to know the ins and outs of boating, you have to spend a lot on upkeep and even navigating a watercraft isn't too easy.
Maybe we are seeing the evolution of Froggy. Since he will be 30 years old later this year, maybe this is the beginning of a new Froggy - a guy who actually has more patience and isn't like the rebellious guy we've grown to love.
Laura has become an unlikely radio star
A personal trainer named Laura probably thought she would never get any recognition for her singing abilities - or, at least, she thought she could sing. On a whim, she sent a CD with two tracks of her singing on it to the Clear Channel offices in Tampa. The tracks were recorded three years ago, making the whole thing even more obscure. Little did she know, MJ would bring her into the studio in a limo, have her on the show, and help her produce a music video for one of the songs on the CD.
One afternoon a few weeks ago, Tommy Chuck was listening to the CD in his office. MJ heard it and asked what it was. He said it was just one of the many CD's sent in by listeners hoping that they might cut through the clutter and get some airplay on the radio. So MJ took the disc and began playing the songs last week. He would roll snippets of them here and there every morning, poking fun at how off-key some of her notes were. He even said she should stick to personal training and forget singing.
The crew's multiple attempts to contact her were unsuccessful until she finally answered the phone one morning. They had her on the show and MJ was very honest with her, which didn't really help matters. He then offered her the chance to come in one morning so they could talk to her. When she agreed and came in, he made the offer for her to star in a music video to one of her songs - "Villains" - just to have some fun. It took some coaxing but she ultimately said yes.
The ironic thing about all this is that Laura had never even heard of the MJ Morning Show. Now she has become somewhat of a star on the radio with a chance to become noticed on the Internet as well. William Hung and Susan Boyle surprised everyone, so could Laura be the next sensation?
Billy Mays, a friend of the show, has died
Celebrity deaths just won't seem to stop. Hollywood lost three big names - Ed McMahon, Farrah Fawcett, and Michael Jackson - just last week. Although he wasn't a major Hollywood celebrity, Billy Mays was still known to Americans as the top TV pitchman of today. Mays was found dead in his Tampa, Fla. home on Sunday, June 28 around 7:45 a.m. He was 50 years old.
For years, MJ had always wanted to have Billy on the show. He heard a rumor that Billy did not like him because Michelle had some problems with OxiClean that MJ talked about on the air. But the two finally made a connection in 2009 when Billy called in to the show one morning. They would later have he and Anthony Sullivan, Billy's business partner, in the studio as well as Billy III, his 22-year-old son. And of course they had Billy star in a video shot at a McDonald's restaurant in which the pitchman ordered breakfast in his classic voice.
Billy and Sullivan were also involved in the "Pitchmen" TV show, which chronicled how a product is developed and eventually advertised. The morning show crew attended the premiere party for the Discovery Channel show, which was picked up for a second season and was scheduled to begin in the fall. MJ even pitched an idea to Billy about doing something where the morning show could be featured on one of the episodes by having listeners send in their ideas for products to be pitched.
Just think of how many more products Billy could have pitched in his lifetime. Maybe he could have landed roles in movies at some point. He seemed like he was a genuinely nice guy from hearing him on the radio and watching his show. Billy Mays will be missed.
Congratulations to our winner: Amber Tardino of Highland, Illinois!
Amber listens to the show on Z107.7 in St. Louis. She correctly answered 14 of the 15 questions.
Thanks to everyone who entered. There were more entrants this time around, so I appreciate everyone for taking the time to enter, and I may do another one of these later in the year.
Here are the correct answers:
1. In the "Hurt Nurse" fake radio shows, what is the name Froggy uses for the radio host?: Jose Castillos
2. How old does Dementia Don claim to be in his phone calls?: 97
3. What ended up being in the Mystery Safe when the crew finally opened it?: Nothing
4. What is the name of the contest MJ planned to do for women with great bodies but not great faces?: Butter Face (or But-a-Face)
5. What is the name of Fester's Chihuahua?: Bailey
6. Which young actor does Froggy claim he was friends with in high school?: Channing Tatum
7. What invention idea has Froggy always talked about getting a patent for and even pitched to Billy Mays?: Tube socks on a roll
8. What company does Meredith's step-dad work for?: Wachovia (Wells Fargo)
9. Which minor league baseball team did Dave the Dwarf recently play for?: York Revolution
10. What is the name of Fester's barbecue sauce?: Tony Fatso's Everything Sauce
11. In what year did Fester and his wife get married?: 2001
12. What is MJ's brother's occupation?: Plastic surgeon
13. January 20 was President Obama's first day in office and the last day for which crew member on the show?: Joey B
14. What sport did MJ beat President Obama's low score in?: Bowling
15. Unitard and which female intern supposedly hooked up?: Jub Jub
Jub Jub gets caught, and Meredith was there
This past weekend, the show's flagship radio station 93.3 FLZ held its annual Memorial Day Weekend party at Shephard's, a tiki bar/restaurant/hotel complex on the beach in Clearwater, Fla. Meredith was one of several station staffers who was on the air broadcasting live from the event. Her shift was from 4-7 p.m. on Sunday. She got her own room to get ready for the live broadcast. About an hour before going on the air, Jub Jub the Intern came to Meredith's room at the hotel where Meredith and her friend Sue from Jacksonville were hanging out. Jub Jub said she had a "surprise" to show them. She opened her purse, pulled out a bag of marijuana and started smoking it. Meredith claimed that she and her friend did not partake in the smoking. A security guard then knocked on the door and said he smelled something coming from their room. They admitted to having pot in the room, and he told Jub Jub to flush it down the toilet and no further questions would be asked. She complied with his request.
Because of this incident, MJ said that Jub Jub has lost her internship with the show yet again. Last summer, she shoplifted a sweater from a Dillard's store at a local mall. MJ fired her for doing that but later agreed to give her another chance as an intern. Since she came back, the crew has been trying to help her lose weight with its "Biggest Loser" bit. So far she has lost over 20 pounds.
But MJ is also wondering whether he should fire Meredith for her involvement in the ordeal because she did not tell Jub Jub to leave or get rid of the drugs at the party, which was sponsored by the radio station. He claims that she put the station and morning show in a bad position by allowing Jub Jub to stay in the room and use drugs right in front of her when all three girls could have been arrested and charged with misdemeanor drug possession.
UPDATE FROM 5/27 SHOW: MJ said he is going to make Meredith do 100 hours of community service for her involvement in the situation. He wants her to work with some kind of anti-drug group that warns teens against the dangers of using drugs. As for Jub Jub, he fired her a second time on Wednesday's show after telling her she was fired the day before. She wasn't too happy about his insult to injury.
UPDATE FROM 5/29 SHOW: Froggy went up to Meredith and pulled out a chunk of her hair. Click here to listen to her reaction. He insinuated that he'll probably have the hair tested to see if it reveals anything related to the whole situation.
Show can now be heard on iHeart Radio
Maybe you've heard MJ talk about how the morning show is now available on iHeart Radio, but you weren't sure what exactly he was talking about. Well, with the advent of "smart phones" such as the iPhone in recent years, these devices can connect to the Internet almost anywhere you have one. They are also capable of connecting to streaming audio. Most radio stations stream their audio so you can listen to them online around the world, and now you can listen to stations right on your phone. The quality of the audio is pretty decent, too.
The MJ Morning Show now has its own streaming station on this application. All you have to do is download the iHeart Radio application, which can be installed on the iPhone and the Blackberry. When you run the application, there will be an option to select from various Clear Channel stations around the country, which you can listen to live. There is a menu titled "Personalities" that includes several morning shows. Go to that menu and you should see the MJ Morning Show listed. Each 4-hour show becomes available shortly after it ends every morning, and the shows are replayed throughout the day. So if you miss a show from a Tuesday morning, you can listen to it over and over later on Tuesday afternoon and at night. On the weekends, the channel will replay shows from the previous week. So get the application and try it out!
Maniac Marty Calls the Stoner Guy
Listen to one of Froggy's recent calls to the Stoner Guy at the record store. He posed as Maniac Marty - a radio show host who was doing a contest to give away a ton of money.
Dave the Dwarf digs the long ball
Read a story from the York Daily Record about how a minor-league baseball club in Pennsylvania hired Dave the Dwarf. And he's not just a mascot or entertainer in the stands - he's actually playing on the team!
Dana the Intern is living the high life
It can't be too often that a young woman is approached by a wealthy businessman who offers to wine and dine her around the country, plus pay for other luxuries like lip augmentation.
Or can it?
Either way, that is exactly what has happened to Dana the Intern (or Dumbass Dana, according to Froggy). Some guy named Todd (ironically MJ's real name) runs a public relations company out of New York. Donald Trump is apparently one of his clients, so we can assume his pockets are pretty deep. He first met Dana at a Super Bowl party in Tampa back in February. The two hit it off, and they've been seeing each other ever since. Todd was supposed to fly Dana out to see the Grammy Awards in L.A., but that never happened. What has happened is he has named her "vice president" of his PR company. She now carries business cards with her name and new title on them. He has also flown her to New York a few times and the two went to Las Vegas. (Maybe he's just a little obsessed with her?)
Most recently, Dana got lip augmentation that Todd paid for. MJ noticed her plumpy lips and thought she was bitten by a bunch of bees. She was hesitant to reveal what actually happened but finally spilled the beans that it was Todd who made her face more plumpified. Dana is also hoping to get a tummy tuck and especially a new boob job - something she has wanted ever since she got botched implants a while back. She is hoping Todd might shell out money for the new rack as well.
Find out more about Dana (and maybe some insight into her escapades with this guy) on her MySpace page. She does list herself as being "in a relationship."
The Famous Robert from the STL
Listen to the audio of MJ and the crew talking about Robert, our famous friend from St. Louis. They kind of called him a "stalker" because he has sent flowers to Meredith and has made websites about her. (audio coming soon!)
Meredith has been center stage recently
The MJ Morning Show's Meredith has been the subject of plenty of attention lately. And it hasn't really involved her seemingly lack of knowlege about pop culture or current events. Although she doesn't say too much during the course of a given show, several bits in the last week or so have put her on center stage because of her looks. She was recently named as one of the top 50 hottest women in radio - but by a website that almost nobody has heard of before. She came in at #12 on the list and was beat out by Lisa Paige, a girl who used to do middays at 93.3 FLZ in Tampa. She was also contacted by a representative from Playboy magazine - so she thought to potentially do a photo spread for one of its issues, which may have come from the fact that she made the top 50 list. But it turned out that this was a hoax and Meredith was duped.
Meredith has talked about a getting breast augmentation to enhance her body since she says it would really help her potential career and could lead to other opportunities outside of radio.
So my question is: Based on pictures you have seen of Meredith on the website since she has been on the show, do you think she is hot? Be honest.
OTHER POLL QUESTION
On the morning of Monday, February 7, 1994 at 6 a.m. Eastern Time, the MJ & BJ Morning Show was born on WFLZ-FM in Tampa. The crew included MJ, BJ, Mike, Jason the Buffoon Boy, and Hurricane. Fifteen years later, the show has a slightly different name, is heard on more radio stations, and probably sounds a bit different than it did on day one. especially with how much music was played on the show back then. But two of the show's original members still remain - MJ and Hurricane.
So Happy 15th Anniversary, MJ and crew!
Joey B becomes victim of layoffs
The economic crisis has finally hit close to home for MJ Morning Show listeners. Joey B, the show's executive producer for the last three years, was laid off by Clear Channel on Jan. 20. The media company announced that it was laying off over 1,800 employees that day - about 9 percent of all employees. Joey just happened to be one of the unfortunate victims. The entire media industry has undergone significant cutbacks in the last few years, especially with Clear Channel and radio in general.
Joey worked on the MJ & BJ Morning Show from 1998-2001 and then came back five years later to rejoin MJ after stints at stations in Miami and Philadelphia. Joey brought Flunkie with him the second time, and the two were roommates for a while until Flunkie decided to move back up north. Joey has been living by himself since and has also been dealing with his ailing elderly mother who lives in New Jersey. Losing his job is probably the last thing he needed to happen to him.
Media coverage of the Clear Channel layoffs included a story on a St. Petersburg Times blog. Joey told the Times: "It's just business, not a personal thing," he said. ""When is a good day for somebody to lose their job? Is there ever a good day for that?" He also said he hopes to find another job in Tampa.
Because Joey was laid off and not fired, he probably will not be replaced any time soon, unless someone wants to come in and work for a significantly lower amount of money than what Joey was making. That means the executive producer duties will likely be dispersed among the rest of the crew - at least for now.
Listen to the audio of MJ talking about Joey B getting laid off.
Froggy 1, who some may remember as simply Froggy, started on the MJ & BJ show in the mid-1990s as an intern, a buffoon and later ran the audio and sound effects. He left in the summer of 2002 to work on the morning show on Miami's Y-100 FM. The current Froggy took Froggy 1's name and job on the show when the first Froggy left.

Click here to check out a feature piece on the old Froggy that recently ran in the Miami Herald. It includes some quotes from Hurricane.
Flunkie makes an appearance on the show
After Flunkie supposedly strong-armed Clear Channel management in March 2007 by demanding more money or quitting his job on the show - and then picking up and leaving - many people thought it would be the end of the Flunkster, and MJ would want no part of him anymore. But that turned out not to be case. MJ has made quick mentions of him since his departure, including playing his famous "Go West" theme song. He even had him on the air again for the first show of 2009. During the show's holiday break, Joey B was out and spotted him in town where he was working as a DJ for a private party. The two former roommates didn't talk very long, but Joey said he was "mesmerized" by something about Flunkie - his hair. When he was on the show, Flunkie would always wear a hat to try to hide the fact that his hair was thinning. Now, according to Joey, he has a full head of hair and looks like a new man. But he's still fat.
Listen to the phone call where MJ confronts Flunkie about his new hair and how he got it.
Fester said these four days will always stand out in his life:

#1 - The day he got married
Many listeners thought Fester would always be a single man, mainly because of how lazy he was. But he finally settled down and tied the knot in 2001 with a girl named Allison. Seven years later, he and his wife now co-own a Planet Beach tanning salon franchise in South Tampa. I once asked Fester if he and Allison would ever have kids, and he said taking care of his chihuahua was enough work for him.


#2 - The day he weighed in at over 400 pounds
The "Fester 400" was a "race" that Fester did by himself. It had nothing to do with running and burning calories - rather, it was the opposite of that. Fester always weighed around 380 pounds, sometimes more and sometimes less. So as a bit, MJ decided to make him finally reach the 400-lb. mark. He shoved his face with as much food as he could round up, mainly pizza. Once all was said and done, he and former general manager Dave Reinhart went to a truck stop. They did a weigh-in, and the scale read 402 lbs. Fester later had the lap band procedure done and has dropped over 150 lbs. in the years since this day because his stomach is "tied up" to be smaller and thus hold less.


#3 - The day MJ kissed his ass
In 2000, Fester made a bet with MJ that he could book Arnold Schwarzennegger to be a guest on the show. If was able to pull it off, MJ would have to kiss his ass. Fester did it, they had Arnold on the show, and MJ's lips met Fester's rump for a historic smooch. They even took pictures of the kiss and sold copies to listeners at various locations around town. The crew occasionally references this moment as one of the most significant days in the show's history.


#4 - The day he set off a turkey fryer fire
Fester finally got redemption on this one. A failed attempt to create a fire from a turkey fryer in 2006 gave Fester motivation to try it again two years later. On November 26, 2008, he was successful. He used regular cooking oil instead of peanut oil and set off a blaze in the station's parking lot as the frozen turkey met the scalding hot oil in the fryer.
Future looking brighter for the MJ Morning Show
There has been plenty of speculation here on this website among listeners who are wondering what the future holds for the MJ Morning Show. MJ's last Clear Channel contract expired on Aug. 31, and he even said on the air that he might give up the show soon to focus on his afternoon Schnitt Show, which is starting to build up a nice list of affiliates around the country.
But we now know for sure that MJ will continue to host the morning show for the foreseeable future. Although we don't know the specific details of the latest contract he signed, MJ said the show will go on in 2009 and he will be picking up at least two new affiliates for the morning show in January. That could bump the show's network up to at least eight stations. MJ will embark on his 15th year hosting the show on Feb. 7, 2009. And from the looks of it, he may just add another year or more to that number, which is already a pretty big accomplishment for a show to last that long and be a consistently top-rated show in one market.
There are also a few other indications that the show will remain on the air for some time. MJ said he wants to have a new logo designed. The current one has been used since 2002 when he held a contest to see who could come up with the best logo. He also said he may be taking the morning show website off-premeses to a site that would not be owned and operated by Clear Channel. This would give him more freedom to put things on it that the company might otherwise restrict him from doing.
Jub Jub is back for the third time
MJ has brought back many former members of the show, including Froggy 2, Joey B, and Jabberjaw. The same deal now holds true for Jub Jub the Intern, also known by her real name, Elena. She was originally on the show for several months before leaving to take a job with what turned out to be a shady operation in a foreign country. That didn't work out, so she came back and MJ let her back onto the show as an intern. She then was arrested this past June for shoplifting a $69 sweater from a Dillard's store at a local mall. After a dramatic phone conversation with her on the air, MJ felt that this crime was too much for her to remain on the show, so he let her go in late July.
Obviously time has healed this "wound" for MJ and he's had a change of heart about her. When Meredith mentioned that Jub Jub would be taking her to the dentist to have her wisdom teeth pulled, MJ decided to get her on the phone and talk to her. He then had her in the studio and ultimately gave her an intern position on the show for the third time. Is the third time always the charm? Hopefully it will be for Jub Jub. Expect fewer fat jokes and more about her being a thief.
MJ gets some big political names
Some people might think a radio show that is broadcast out of Tampa, Florida wouldn't have as many big-name guests on it compared to shows in markets like New York City, Chicago, or Los Angeles. But MJ has been able to snag a few well-known guests during presidential races over the years. And to the surprise of some, they haven't all been Republicans.
In 2000, MJ & BJ interviewed Democratic presidential candidate Al Gore in the closing days of that year's election. They learned that Mr. Gore is actually from the same area of Tennessee where BJ grew up. Four years later during the Bush-Kerry race of 2004, MJ interviewed John Kerry's younger daughter, Vanessa, in what turned out to be a somewhat heated but solid exchange. This year, MJ has had on three different people involved in the race. He first interviewed John McCain on his afternoon Schnitt Show for over 10 minutes. He then had Senator Joe Lieberman, who is stepping outside of his party to back McCain, live in the morning show studio. Then Sarah Palin called in to the morning show just one week before election day. To wrap it all up, he had McCain on again - this time on the morning show - the day before the election.
The Rays and the MJ Morning Show
You may not think a radio show like MJ's would be associated with a Major League Baseball team. But there have been some connections between the MJ Morning Show and the American League champion Tampa Bay Rays. In 1999, Dave the Dwarf was a fixture at Tropicana Field, riding around the stadium in a scooter and entertaining the crowd. Also, on June 19, 2005, MJ threw out the first pitch at the Trop when the Rays ironically hosted the St. Louis Cardinals. As expected, the Cards handed Tampa Bay an 8-5 loss that day in one of only a few meetings the two teams have had. And the show has given out several World Series tickets this year to see the Rays play the Philadelphia Phillies. Even though MJ has never been a big fan of the team and says he is still bitter about the 1994 MLB strike, he is still supporting his hometown team during the unprecedented magical run this season.

Listen to MJ's World Series prediction he made in 2004 - a year in which the team won only 70 games. It sounded ridiculous back then and probably even earlier this year. But in 2008, his prediction has come true.
The Jabberjaw Story As We Know It
According to MJ, this is the REAL story about what went down with Jabberjaw. You can believe what you want:
On Sept. 24, Jabberjaw wanted a personal day off from the show to go to a Barack Obama rally. She told Joey B and Tommy Chuck (the station's program director). Joey didn't tell MJ that she wanted the day off, nor did Jab tell him. When Jab didn't show up for work that morning, Joey made up a story that she had a migraine. He was going to spring a "bit" on MJ the next day that she really didn't have a migraine and instead went to the Obama rally, knowing how much MJ is against Obama. MJ then called Jab's house to find out if she was really sick with a headache. He talked to her mother and found out that she went to the rally. He said he would've been OK with that if she had let him know she was going or if she had simply asked him for a personal day. MJ said the two had a recent conversation in which he told Jab to let her know what she was doing. After talking to her mother, he finally got ahold of her on the phone and said "you're fired." But he said firing her was a joke.

"I fire everyone on this show. She wasn't fired. It was a joke on the air," he said. (This is actually pretty accurate because Froggy, Fester, and others have been "fired" many times before but eventually end up returning to the show, possibly after a probationary period)

According to MJ, Jab came in the following morning (Thursday) after the show to discuss the situation with him. MJ claimed they had "patched up" the problem at that particular meeting, which lasted between 30 and 45 minutes. MJ told her at the meeting that he was working toward getting her a full-time job and more money right away. He said she left the meeting with a smile on her face and told the crew she would see them the next morning. But on Friday morning, she didn't show up for work. She instead chose to go on a competing radio station and stabbed MJ and the crew in the back by spreading what MJ called "lies and slander" about him and the show.
It also came out that somehow, MJ's request lines at the station were forwarded to Jab's home, so her mother was receiving calls from listeners that would normally be going to the radio station. He said it was an accident and Joey may have been responsible for accidentally pressing a certain key combination on a phone in the studio that forwarded the lines to her home number.
So this marks the end of Jabberjaw's second stint on the show. She started out as an intern in the summer of 2005, worked her way up to a assistant producer role, and then left for an internship at a local TV station. After not liking that, she came begging to have her job back. MJ surprisingly brought her back in April 2007 to fill in for Rachel the Flying Tomato who lost her mother. Rachel moved on to another show, and Jab got her gig back. She had to endure her fair share of abuse from Froggy, so maybe she's at least glad that stuff appears to be over.
MJ plans to replace Jabberjaw's part-time position on the show while also doing some rearranging with the crew. He hopes to bring in Big Lou, Froggy's good friend who has tried out for the show in the past, to run the show's audio and sound effects. Since that is normally Meredith's job, he may give her a similar role to what Jab had with gathering Hollywood dirt while also having her continue to do some of the tasks she still does, like pulling audio for the show. She just wouldn't be running the board as much anymore, which is something MJ has constantly complained about to her.
Froggy's Date of Fate on the Show is:
Thursday, October 9, 2008
That is when MJ will make a decision about Froggy's future on the show. Since he has acted out and done some stupid things, including putting dog poop in one of Jabberjaw's Coach purses, MJ is giving him a 30-day "trial" period to get his act together and really prove that he can be on the show, be funny and entertaining, and not misbehave like a child, which he has been doing more often than not in the last few months.
MJ's Clear Channel Contract
Expires On:
August 31, 2008
The contract is for both the MJ Morning Show and the Schnitt Show, which was picked up by Jones Radio Networks, a radio syndication company that has already syndicated the show to stations around the country.
MY PREDICTION: MJ will sign a new contract with Clear Channel through at least the end of the year, possibly for one more year (through Aug. 2009). After that, I think he'll focus on the afternoon show full-time and may even move to another radio company or to a bigger market if he can make more money. In doing so, he would keep the afternoon show on in the markets it's always been on in (Tampa, Miami, etc.) while continuing to build up his affiliate base via Jones Radio. In the end, I hope loyal morning show listeners will be able to follow his radio career no matter what happens.
UPDATE: The update is that there really is nothing to report on MJ's contract. I haven't heard him mention anything about it, so we can assume that he did sign some kind of deal to remain with Clear Channel for the forseeable future. However, since he is an "independent contractor" and isn't technically employed by the company, we don't know for sure what the situation is behind the scenes.
Froggy vs. Jabberjaw: Is the battle finally over?
Froggy and Jabberjaw have never really gotten along. Some of the tension between them can be traced back to bits like "Froggy's Bag of Intrigue" where he scared Jab with different items that he made her grab out of a bag, like dog poop. Since then, the tension has mounted even more. Several months ago, Froggy destroyed one of Jab's expensive purses by lighting it on fire.
Recently, Froggy morphed into a character he called "FrogFreak" and went on another destruction rampage by using fireworks to destroy Jabberjaw's favorite boots. He was then suspended for several days following this incident and other instances where he wasn't getting along with the crew. To get back at him, Jab decided to aim for something close to his heart - his video games. She found Froggy's keys in the morning show office, went to his house and took his beloved Xbox 360, and brought it back to the station to have it destroyed. The twist was that she wasn't going to do the destruction herself. She made him do it. MJ gave him a sledgehammer and told him to bash the "mystery item" that was tripple-wrapped in paper bags. Initially he thought it was something of value to someone at the station and refused to do it. But when he was finally coaxed into doing it and smashed it all up, he opened it up and saw the remaining pieces, soon realizing he was looking at pieces and shards of material that once made up his Xbox console.
Froggy stormed out of the studio after the retaliation that Jabberjaw got at him. The next morning, the two made up after Froggy read a statement declaring a truce in the battle. MJ thinks Froggy is now a new man who has turned over a leaf and learned a valuable lesson.
So is this tension between Froggy and Jab finally over? Let's hope so.
Jub Jub steals sweater and gets let go from show
Jub Jub the Intern has done her fair share of bits for the show over the last year or two. But she will no longer be doing any more. On the morning of Thursday, July 24, someone tipped off MJ about something Elena (her real name) did on her 22nd birthday back in June. She swiped a $69 sweater off the shelf at a Dillard's store, made her way into a dressing room and a bathroom, and eventually found an exit she thought would be safe to go out. Little did ehe know, mall security was standing by and nabbed her as she and her friend were walking to their car in the parking lot. She was ultimately arrested and charged with shoplifting and now has to do community service after going to court. MJ confronted her on the phone about the incident that morning, and she admitted to being a thief, although she said it was a stupid mistake. She said the reason she did it is because her parents didn't buy her a new cell phone she really wanted for her birthday, and it was a way to get back at them. The next morning, MJ made the decision to let her go from her intern position on the show because he could not have someone work there who he didn't trust and it would not have been morally right to keep her around.
This was actually Jub Jub's second stint as an intern. She left earlier in the year to go work for what turned out to be a shady operation in a foreign country. She came back wanting her gig back, and she was granted it. During her time back, she got to talk to American Idol judge Paula Abdul about becoming her personal assistant. Paula would probably have second thoughts on that now if she knew what happened. Unfortunately Jub Jub made the wrong move by committing a crime that MJ felt was enough to say goodbye to her for most likely the final time. It also means we won't get to hear her cute little giggle in the background that has become a staple of the show since she's been on it. And no more fat jokes about her, either.
Joey B talking over commercials
Joey B didn't realize his microphone was on during a commercial break on a recent show. Listen to how it sounded and what he said. When they came back on the air, MJ said the conversation was about retired NFL quarterback Trent Dilfer joining ESPN as an analyst. He was glad Joey didn't drop any F-bombs.
Vacation recap: condoms, a watermelon, and a mountain
MJ and his family took the vacation of a lifetime when they traveled across the globe to the earth's largest continent - Asia. Usually MJ will take three full weeks off during the summer months and split them up, like two in July and another in September. But this time he took the full vacation all at once, meaning the crew will be live until Christmas vacation rolls around in December.
Their summer trip started out a little rough with a quick jump to Atlanta in order to catch a direct flight from there to Seoul, South Korea. They stayed overnight in a hotel, and Chloe and Julian found condoms (that they thought were balloons) right next to the Bible in the hotel room. The hotel gave them the room free for the trouble.
While in South Korea, MJ attended the wedding of a friend's son who was getting married. He also stopped by the DMZ and got a brief look at North Korea. Plus he saw a square watermelon on sale at a market for what amounted to $210 in American money.
In Japan, where Michelle lived as a child with her father who was stationed there, the family climbed Mount Fuji - the country's highest mountain standing over 12,000 ft. high. It took them parts of two days to get to the top, and they even stayed in a small shack and slept in sleeping bags with other people around several thousand feet up. According to people who work there, MJ's son Julian (who was just shy of 4 years old on that day) may have been the youngest person to successfully climb to the top of the mountain.
Overall, MJ said he had a great time and really enjoyed interacting with the people who live there.
Congratulations to our winner, Amber Tardino! Amber wins a $40 gift certificate from Amazon.com for answering 14 of the 17 questions correctly. She definitely knows her MJ Morning Show well!

Thought the challenge was too hard? Weren't impressed with the prize being offered? Send me some feedback and let me know your thoughts on it. I'd like to do more of these in the future, but I didn't get much of a response.
Here are the correct answers to the questions:
1. What is Jub-Jub the Intern's real first name?

Elena
2. What is Joey B's favorite college football team?
Nebraska Cornhuskers

3. Unscramble this show member's name: ADURITN HET TIENRN

Unitard the Intern
4. Kiss 95.1 FM began syndicating the MJ Morning Show in what year?

2007
5. Instead of Tony Fatso, what name did the crew use for the image of a black-looking Fester on his barbecue sauce t-shirt?

Tony Fatbro
6. What is Joey B's favorite (specific) brand of beer?

Bud Light
7. From which game show is the theme music for "Guest or No Guest"?

The $10,000 Pyramid or Family Feud
8. Which TV court show did members of the morning show tape an episode for that never actually aired?

Judge Joe Brown
9. What radio station did MJ work at in Los Angeles?

KQLZ, Pirate Radio
10. Which celebrity does Jub-Jub the Intern want to be a personal assistant for?

Paula Abdul
11. What is the name of the company in Tampa where the Jesus Door was discovered?

Bay City Plywood
12. What basketball player is mentioned in the "Chloe's Mom" song?

Hakeem Olajuwon
13. Listen to this Pick Your Plastic jingle here. What song is it a parody of?

Pretty Ricky - "Your Body"
14. Where did Meredith go to college?

University of North Florida
15. MJ owns land in what mountainous state?

Colorado
16. What was the name that Joey B gave to a lizard that got into his house?

Lester
17. In this photo, who is the former intern all the way to the right?

Taniya the Intern
Jabberjaw and Meredith Interview
Check out this video interview Jabberjaw and Meredith did with Tampa Bay Media Talk. They interviewed the girls about everything from what it's like working on the show to what their plans were for Valentine's Day.
Froggy 2 - POOFIE
Listen to Froggy's song about MJ's "poof" - when his hair starts to puff out from the top of his head. It's a parody of Aretha Franklin's "RESPECT."

(Note: Better audio quality than previous file)
R.I.P. Noelia the Intern
Our condolences go out to the family of a former MJ Morning Show intern. Noelia, who worked on the show a few years ago, passed away at 26 years of age on May 16, 2008. She had a twin sister, and obviously she and her family are having to deal with this terrible loss. Rest in peace, Noelia, and I hope the family will be able to move forward together.
MJ ponders future of the morning show
MJ created what he called a "firestorm" when he made some comments about his plans for the rest of his career in radio recently. His afternoon Schnitt Show was picked up by Jones Radio Networks, which will syndicate it to stations around the country. He said he hopes to build up a few dozen affiliate stations over the next few years. With that said, it leaves his plans for continuing to do the MJ Morning Show up in the air. With his Clear Channel contract expiring on August 31, 2008, he said he is not sure whether he will continue to pull double-duty every day by doing both shows, or if he will give up the morning show.

MJ has been doing the morning show since 1994 and the afternoon show since 2001. That means he has gotten up at the crack of dawn for over 14 years while doing two shows a day (seven hours of original programming) for almost seven years. You have to wonder how long he wants to continue with that grueling schedule that most radio hosts would probably never take on for more than a few years. He said his long-term plan is to host the afternoon show until he is ready to retire.

So that leaves us with the question: how long will the MJ Morning Show as we know it be on the air? MJ said he could give up his morning gig when the contract expires, or he might continue to do the show after it expires in order to give the station ample time to bring in a new host. He also said that the rest of the crew would probably stay intact, and the only thing that might change is adding a new crew member. Fester said he'd be willing to step up to the main microphone and host the show with a new co-host. Whatever happens, it sounds like someone else would join the program if MJ were to depart any time soon.

I'm guessing that MJ will give up the morning show at some point in the next two years or so. That could mean that he walks away from it at the end of August or he signs on for a little more time until ultimately focusing all of his attention on the afternoon show. I still think he has the drive and work ethic to do more than only three hours of broadcasting a day, which he would be doing if he only did the afternoon show. That would be a dramatic decrease in his work schedule, but maybe it would make the Schnitt Show that much better. We'll have to wait and see what he decides in the end, and that decision shouldn't take too much longer to make.
Froggy - Imagine A Morning
Download the song about Froggy imagining a morning when MJ is nice. Does he actually sound better than John Lennon? You decide.
Jesus Door tour is underway
The MJ Morning Show's tour of the Jesus Door will begin this week. The Jesus Door was discovered at a warehouse when a guy noticed that it looked like an image of Jesus appeared on a door there. In fact, someone who touched the door won a $9-million lottery jackpot shortly afterward, making some believe the door will bring riches (or at least good luck) to people who touch it. The guy who discovered it also said he experienced a warm feeling when he touched the handle. That is why MJ will send out various crew members, probably Froggy and Fester, on a tour with the door and drive it around to listening areas. It will be taken to locations in the Tampa Bay area and around the state of Florida, but MJ did mention that he wanted to take it to St. Louis at some point as well. The crew has collected several religious-looking artifacts over the years, including a Jesus Pipe found on a listener's roof in Spring Hill, Florida in the late 1990s that they also showed off around the area at Crotchety CD signings. Plus MJ found a chicken nugget that looked like the Virgin Mary in a hot food vending machine at the radio station.
Tour stops:

April 15 - Brandon, FL
April 17 - Pinellas Park, FL
April 18 - Tampa, FL
April 23 - Jacksonville, FL
April 24 - Melbourne and Vero Beach, FL
May 1 - Maryland Heights, MO
May 2 - Belleville, IL
May 6 - Port Charlotte, FL
MJ's afternoon show picked up by big radio network
(Courtesy of Radioink.com)
Todd Schnitt Joins JRN Lineup
DENVER -- March 14, 2008: Jones Radio Networks has added "The Todd Schnitt Show" to its afternoon lineup.
"The time has come for Talk radio to get the 25-44 demographic," said JRN VP/Talk Programming Amy Bolton. "JRN will do that with Todd Schnitt. Finally, we have Talk radio with a Rock radio edge."
JRN will handle afffiliate sales for the show, while ad sales will be covered by Jones MediaAmerica.
Schnitt -- who also hosts mornings on WFLZ/Tampa, as MJ Kelli -- said, "This is a fantastic opportunity to deliver my style of an exciting, fast-paced, and unpredictable form of Talk radio. Unlike some shows, I've tossed the obligatory checklist out the window. What's my take on the day's hottest issues? Don't assume, listen!"
---
So now that MJ's afternoon show appears to be going nationwide (probably a few dozen affiliate stations around the country), you can't help but wonder what will happen to the MJ Morning Show. MJ's contract with Clear Channel expires this year on August 31. He mentioned before the two-week Christmas break about "changes" being on the horizon in terms of his career. Plus he has been doing both shows now for over six years, and you have to wonder if he is starting to get tired of the grueling routine. I'm not saying the morning show will end soon, but I think this deal that was just announced might say something about what he is really committed to doing in the long run. Whatever happens, I think it's safe to say that MJ will be on the radio for many years to come in one way or another.
MJ gets tossed out of ice cream shop
All he wanted was some nice cold ice cream to enjoy with his daughter. Instead he found himself going home empty-handed after getting thrown out of the shop. MJ and Chloe were recently at an ice cream shop in hopes of chowing down on some dessert after dining at a sushi restaurant. They went to a place that MJ has been going to for 14 years, and they both ordered their favorite frozen treats. MJ noticed that the guy preparing the desserts was taking money from customers and not washing his hands or even using gloves to handle the food. He called him out on it because he was crumbling a cookie with his bare hands into some ice cream that MJ ordered. The guy got angry with MJ and eventually threw him out of the store because he didn't want to deal with him anymore. MJ does not plan to return to this particular business after the incident, and many listeners who work in the food industry flooded the phone lines in agreement with his observation. The guy claimed to be a "Certified Food Handler," but the way he was handling MJ's food did not demonstrate his title at all.
The Elevator Crotchety Call
This classic Crotchety call is from MJ & BJ's Crotchety Christmas II CD and the Nothing But Crotchety CD. Did Milton Fludgecow survive a scare in which he was trapped in an elevator? Listen to find out.
The Meredith Curse?
Is there a black cloud hanging over the MJ Morning Show? Ever since Meredith joined the show in November, more negative things have been happening in the lives of the show's members. Froggy thinks Meredith is responsible for putting a "curse" on the show, and he is worried about what might happen next. Here are just a few things that have happened to prove his point:

1) Froggy has had a terrible bout with kidney stones that made him miss work for almost 15 days and caused him to have surgery that took hours. He took 140 Vicodin pills during his bout, and he later experienced a "detox" period for a whole weekend when coming off the medication.

2) MJ's hand was harpooned by a palm tree in his yard. He had to have surgery to remove whatever goop was in there, making it the first time in his life that he was knocked out by anesthesia for surgery and preventing him from being able to style the poof on his head, so he had to wear a baseball hat to work. (Joey thought his injury was only a boo-boo)

3) Fester got punched at a local night parade in Tampa by a drunk pirate. He was driving slowly in his truck on the parade route and almost ran the guy over in order to get away from him.
4) Meredith broke her finger for the first time right after moving to town to work on the show.

5) Julian has left the water running twice in a bathroom sink at the Schnitt house. MJ thinks it was running for up to a few days straight, and he is concerned about getting his next water bill, expecting it to exceed $1,000.

6) Jabberjaw bought a DVD at Wal-Mart for her young niece's birthday. But to her sister's surprise, there was nothing in the case when she opened it to watch it while the entire family was gathered around the TV one night.
Dave the Dwarf on "Tyra Banks"
Watch Dave the Dwarf and his girlfriend, Jessica, on "The Tyra Banks Show" from February 7th. They appeared as one of the "unlikely couples" mainly because of their differences in age and height. Dave said Tyra wasn't very friendly and would sit backstage away from the guests during the commercial breaks.
Joey B announces the end of his drinking days
He has always been known as a heavy drinker. MJ constantly asks him, "Are you drunk?" if he says something that doesn't make sense. He even had Bud Light logos embroidered onto the seats inside his 1994 Toyota Tercel. But after all of this stuff about drinking, are Joey B's days of boozing it up finally over? That is what he announced to the MJ Morning Show audience on Monday, Feb. 11. MJ thinks it is just another song and dance he has done before where he says he will stop drinking and goes right back to it as fast as he can get his hands on a can of beer. It certainly would help his health if he put down the bottle for good. He went to the doctor awhile back and said he recommended that Joey cut back significantly on his alcohol consumption. Plus, who knows what his liver looks like now. He has said he will ask MJ if he ever needs a liver transplant since he thinks MJ can pull strings and get things done that the average person could never do. But maybe if he stops now, he won't need a new liver in the future.
SIGN THIS PETITION if you are in support of Joey B's decision to stop drinking. Let's try and give him as much support from the fans as possible. (Thanks to Robert in St. Louis for setting it up)
Our condolences go out to Fester and his family
Everyone here at the MJ Fan Page and those who post on the forum are thinking about and praying for Fester and his family. His mother recently passed away. She suffered a stroke a few months ago that had left her incapacitated. This is already the second member of the show to lose their mother in the last year. Rachel the Flying Tomato and her mother were in a serious car accident last April, and her mother did not survive, which was a terrible loss for Rachel because of how close she was to her mother. Fester is undoubtedly in a similar situation, and I hope that he will be able to get through the tough times and return to the show when he feels it is appropriate. Visit the forum and look for the sticky thread titled "Fester" at the very top if you would like to post a message for him.
POLL QUESTION
Hillary Clinton on Idol
Listen to Hillary Clinton's "appearance" on American Idol,
and find out what the judges think of her.
MJ's picking on Froggy is starting to get old
It always seems like MJ has an issue with Froggy these days. At the beginning of most shows, he will ask Froggy whether or not he has something to contribute to the show that day. Sometimes Froggy says he does. Other times he says he will kick back and let the rest of the crew do something for once. Whenever he doesn't have an idea, or he has an idea that MJ isn't particularly fond of, MJ will pick on him, berate him, or remind him that he is part of the Millenials generation that has the reputation of not being motivated and expects everything to be handed to them. He also gets upset if Froggy is out of the studio for just a few minutes. Meanwhile, he is in the production room working on something for the show, or is in the bathroom suffering from IBS.
I think Froggy is a pretty funny guy, and I will stand up for him when it comes to this constant picking that MJ does on him. I'm not a fan of every song, crank call, or bit he comes up with. But he seems to contribute a fair amount of material overall, and he comes up with funny quips here and there that other members of the crew rarely do. MJ's picking on Froggy is starting to get old. It may be a bit or it could all be real. Either way, I hope MJ finds someone else to pick on once in awhile other than the guy who does quite a bit for the show on a fairly regular basis.
Archived content from August 2011 to present:
"Change" is probably the best word to use when describing everything that happened on the MJ Morning Show in the year 2011.

Early in the year, Meredith broke up with her boyfriend Marcus (aka. Mucus) but rebounded quickly by starting a relationship with Anthony the Sales Weasel. The two are still together today.

In June, it was revealed on the show that Fester had come down with myasthenia gravis, a rare autoimmune disease. This landed him in the hospital for a few weeks including at least 10 days in the ICU. Thankfully, Fester got over this initial scare and is now medicated and doing well. He may never have a bout MG again, but he'll have to be on medication for the rest of his life.
The first "big announcement" of the year was made on the morning of June 20, 2011. Many listeners thought that MJ was going to announce his retirement from the morning show after 17 years. He initially joked that this was the announcement and that June 30 would be his final show. But many were caught off-guard when the real news was that Froggy's wife, Kim, was pregnant with their first child. It turned out to be a boy named Max Phillip Cusmano, who was born on December 13, 2011.
A major change came to the show starting on August 16. That is when the show was cut down to three hours from its longtime four-hour timeslot and more music was added, significantly reducing the time that the crew was actually speaking on-air. MJ claimed that Clear Channel corporate had determined that listeners wanted to hear more music and less talk in the morning. He also said it was Tommy Chuck who had a major hand in the decision. Listeners stormed to the show's Facebook page in protest, flooded the studio phone lines, and sent angry texts and e-mails that MJ hinted about on the show. People demanded that the "regular" show be brought back, but the music stayed, as did the abbreviated 6-9 AM ET timeslot.
The second "big announcement" of the year came in early September. Because of the first announcement, this one wasn't as hyped. But it was another baby – this time for Fester and his wife, Allison. Hadley Antoinette Siciliano was born on October 10, 2011, which was Columbus Day. This was some wonderful news for Fester personally as he had lost his father in February and had come down with MG in June.
"Breast Christmas Ever" was held on the show once again late in the year as the crew gave out breast augmentations to female listeners who sent in photos. But, as part of another change, they only gave away six surgeries. Listeners voted on the photos and decided who needed the augmentation the most. MJ gave a few different reasons for the smaller giveaway number, stating that the station did not have the budget to do the traditional baker's dozen giveaway. But he also said it had to be an abbreviated contest and that having listeners send in photos instead of videos or stories would streamline the process.

MJ dropped numerous hints throughout the year that he might be walking away from the morning show soon. One interesting factor is that he started up a Twitter account in October and began encouraging people to follow him on Twitter. Could this signal a potential career change at some point? Maybe he wants people to follow him through social media because he won't be on the air at some point to deliver his opinions through broadcasting. Because of this, there is a possibility that the show could experience even more change in 2012. What this change may be is yet to be determined.
Froggy and Kim welcome first child
The result of the first 2011 "big announcement" on the show back in June finally came true. Froggy and his wife Kim, who also works at the radio station as a promotions manager, welcomed their first child into the world.

The couple had a boy named Max Phillip Cusmano, who was born at 11:46 p.m. ET on Tuesday, December 13, 2011. Delivered via C-section on his exact expected due date, he weighed 6 pounds, 13 ounces and measured 20 inches long (just like his daddy, according to Froggy). Who would have ever thought Froggy would be a father some day and having to change dirty diapers? Regardless, he is now, so congratulations to he and Kim, whose maternity leave runs through March. Talk about the best Christmas gift you coudl ask for!

By the way, the two also have dogs named Meatball and Mimi, so you've got to wonder if they picked an "M" name to go along with Michael (Froggy's real name), Meatball, and Mimi. Not saying you can compare a child with animals, though.

MJ recently played an audio recording of Froggy playing video games at his house. He was screaming and cursing at his TV. You've got to wonder if he'll put the games away now that a newborn is in the house. Or will he give Max an early start on playing Call of Duty: Modern Warfare and Battlefield 3? MJ said his kids don't play video games, but with Froggy, anything is possible.

We also know that Froggy loves to drink Jameson Irish Whiskey. Hopefully he won't do that around the kid, either - at least until he's 21.
Congrats to Hurricane and Peggy!
Hurricane has always kept his personal life off the air - and rightfully so. Any radio broadcaster can be as open or private as he or she chooses when it comes to revealing personal information to listeners. But MJ stumbled upon a piece of awesome news about Hurricane in the last few days.
Hurricane has gotten engaged. He and a girl named Peggy have known each other for over six months. He popped the marriage question to her on October 16 and gave her a ring after she said "yes." The two met at the Green Iguana Bar & Grill when he was out with some friends. They are set to get married at a very small and private ceremony in April 2012.
MJ was a bit surprised about the age difference between the two. Hurricane is 45 and Peggy is 25. Since he has been on the show, Hurricane has briefly mentioned having girlfriends on and off. He may have been in at least one long-term relationship as well. But he has never revealed any plans to get engaged or married in the past, so this is a big first for him.
Congratulations to Hurricane and Peggy on their engagement! We all hope they enjoy a happy and healthy marriage once April rolls around.

(By the way, Meredith will be the only crew member who is not married. Perhaps she and Anthony the sales weasel will tie the knot in the new year? We'll have to wait and see.)
What's up with Hurricane and his computer?
Hurricane does most of his work for the show behind-the-scenes. Occasionally he will chime in on something that the crew is discussing, or if MJ asks him a question, he'll roll over to a microphone and answer it, especially if it has to do with the website. But lately Hurricane has apparently been working on a desktop computer in another area of the radio station complex because his laptop stopped working. That is why you almost never hear him on the show anymore.

MJ admitted that he was going to use the $3,000 morning show quarterly money for Q4 in order to woo listeners to follow him on Twitter by handing out $500 to a random Twitter follower every Friday through the rest of the year. However, it seems like that money could have gone toward purchasing a new laptop for Hurricane (or at least some of it). MJ feels it is up to Clear Channel to replace his old computer with a new one. He has also claimed that Hurricane does not always take good care of his computers, which is a little hard to believe considering that he is the "web guy" and the show's technical producer.

It is hard to tell if we've heard the whole story on all of this. It is a shame he has to work outside of the studio where all the action happens. Hopefully this issue will be resolved soon, and maybe Hurricane will have to hope that Santa brings him a new laptop for Christmas.
Froggy's Phone Freaks are over
No more Dementia Don. No more Rob Ripple. No more Johnny Stankface. No more Froggy phone freaks.
On Nov. 9, 2011, MJ announced that Froggy would no longer be doing prank phone calls. The decision was apparently made the day before by program director Tommy Chuck, who said that "research" had shown listeners did not want to hear the calls anymore. Back in March of this year, MJ had requested that Froggy do three prank calls each week. They were to be broadcast every Monday, Wednesday and Friday morning at 7:20 a.m. ET - the only preset time for anything on the show. Some of the calls were simple prank phone calls, while others were fake radio shows where Froggy would pose as a radio host and interview a real guest, but the guest did not know they were being interviewed on a fake show
Froggy had done prank calls off and on for several years before he began the regular schedule of three calls per week. One of his earliest calls was with Projectile Vomit Man where he called a school about being a substitute teacher.
Prank phone calls were a staple on the morning show even before Froggy became a crew member in 2002. MJ did dozens of calls with Milton Fludgecow, the Crotchety Old Man. He put out seven CD's and did signings all around the Tampa Bay area in the 1990s and early 2000s.
Obviously there have been several changes to the show in the last few months, with the biggest change being the addition of more music to the show and less talk. When MJ announced the end of the prank calls, he also said there is "so much to say" about the overall changes to the show and that it will all come out "in due course." Hopefully we will learn more about why these changes were really made as time goes on since listeners have not been given a substantial explanation.
Could Chloe be the first female NFL kicker?
Apparently the Schnitt family has some athletic genes in it. And perhaps MJ's speed that he showed off by beating Unitard the Intern in "The Race" back in 2008 was not a fluke.

MJ's kids, Chloe and Julian, have been involved in sports for several years now. Recently, Chloe placed first in the Punt, Pass & Kick competition for fourth graders at her school. MJ raved about how well she can kick a ball for her age and how much strength she has in her legs. MJ also has gotten her involved in soccer and Julian involved in flag football. He said he plays catch with him every night after work.
Even though Chloe is a girl, she could still have a future as a kicker or punter at a high level. In fact, some young women have gotten the chance to kick extra points at the college level. Katie Hnida of the University of New Mexico kicked two extra points in a Lobos game in 2003, becoming the first female to play in a Division I-A college football game. Prior to that, Ashley Martin was 3-for-3 in extra point attempts for Jacksonville State University in a Division II football game in 2001.
So based on Chloe's early success, watch out for the name "Schnitt" on the backs of professional football – or soccer – jerseys in the next 10 or 15 years. You just might see Chloe and Julian out on the field and MJ in the stands, wearing his Burma Bibas shirt and khaki shorts, cheering them on!
Uncle Fester is now Father Fester!
The baby has finally arrived! Fester and his wife Allison welcomed their first child to the family at 3:15 p.m. on Monday, October 10, 2011. It was a Columbus Day baby for the couple.

Hadley Antoinette Siciliano weighed 6 pounds and was 19 inches long at birth. She also had an Apgar score of 8, which is a scale used to assess the immediate health of a newborn and is considered a good score for a healthy baby. She was delivered via C-section.

As many fathers probably do now, Fester had a still camera in one hand and an HD video camera in the other to capture the magical moment that he will never forget. When asked if he cried during the delivery, he admitted that he didn't but said it was probably the most amazing thing he's experienced.

Baby Hadley is the first baby born to a regular morning show member since MJ and Michelle brought their son Julian into the world on July 4, 2004. Chloe was born in 2001. But Hadley won't be the last morning show birth. Froggy and his wife Kim are expecting a son in mid-December.
Fester News Nuggets
- Fester's myasthenia gravis (MG), which he was diagnosed and hospitalized with in June, is now apparently in remission. According to Fester, this means the symptoms of the disorder have subsided and are no longer visible as they were over the summer.

- The "Fester 400" from 2001 might be on again in 2011. Ten years ago, Fester ate himself up to a "lean" 402 pounds. He is back up to 330 pounds now after dropping down under 270. One reason for this might be the fact that he is taking prednisone, a steroid medication that can cause an increase in appetite and subsequent weight gain.

- Fester's baby girl is on the way in just a few weeks. But he doesn't know how to install a car seat. He recently bought a Britax car seat for his wife's new SUV but had no idea how to actually put it in the vehicle. MJ offered to help him since he has plenty of experience after having two kids.
Fester and Allison to have first child


Who would have ever pictured Fester as a daddy, holding a screaming baby in his arms that he and his wife produced? Probably far fewer people than those who could have pictured Froggy 2 as one. Fester openly admits he can hardly take care of himself.
But Bailey, he and his wife Allison's Chihuahua, won't be their only little one in the house come mid-October. The couple is expecting their first child, and it is a girl. Fester revealed the news on Monday, August 29, 2011 as the second "big announcement" of the year.
Fester and Allison have been married for over 10 years. In 2010, Fester brought up the fact that he and his wife were going through some issues with having a baby. Nothing was mentioned after that, and some listeners may have thought that they decided against becoming parents. But over a year later, they will be welcoming a new member to the family.
This good news comes after several major setbacks that Fester has experienced in his personal life this year. His father passed away at the age of 69 back in February due to liver failure. In June, Fester was diagnosed with myasthenia gravis, a rare autoimmune disease that landed him in the hospital for two weeks.
So now it's time for Fester and Allison to decorate a room, get a crib ready, pull out a baby name book and finally enjoy one of the great miracles in life. You can only wonder if Fester's daughter and Froggy's son (expected in December) will be friends some day. Hey, maybe they'll even get to know Chloe and Julian, and all four will get together and form their own morning radio show!
HELP BRING BACK THE OLD MJ MORNING SHOW!
As the webmaster who maintains this site, I have been urged by others to help spread the word about how MJ Morning Show listeners can show their support for the program to help Clear Channel management realize that the fans want the "old" format back with less music and more content.

Here are some actions you can take to help out:

- If you are on Facebook, go ahead and "like" the page called "We want the old MJ Morning Show Back." Click here to go directly to the page.

- Send a text message to 97720 saying that you don't like the new format and want the old format back. The crew is reading and saving every text.

- Send an e-mail to MJFeedback@clearchannel.com with a message stating that you aren't fond of all the music and want to hear more MJ and crew. This is the new designated e-mail address for all comments pertaining to this issue since the crew's inboxes have been overloaded with e-mail.

- Call the studio during the show (6-9 AM ET/5-8 AM CT) at 1-800-409-9393 and talk to one of the interns about how you are not liking what you are hearing.

- Post a message on the forum in the thread called "Changes to the show" and I will be passing along all of the posts to the crew.

- Sign this petition set up by a fan to show even more support through another outlet.

Trust me, the crew is not thrilled with the new changes. But the only way they will have any chance of going back to the old format is by showing management that listeners are not happy with what has happened. It was not the crew's choice to make the changes; they were basically forced to do so.

By showing your support through any or all of these methods, you might be able to influence the higher-ups at the company to bring back the MJ Morning Show format that we all know and love.

- Greg Lindberg



MJ Morning Show 3.0: Shorter and music-intensive
Tuesday, August 16, 2011 is a significant date in the history of the MJ Morning Show for a few reasons. On a positive note, it marks the fifth anniversary of Froggy's much-anticipated return to the program after a brief hiatus. On a much more disappointing note, it is the start of what MJ calls the "MJ Morning Show 3.0" - a shorter show filled with more music.
For the first time in its 17-year run, the show is now only three hours long. The 6-10 AM block has always been the traditional timeslot for most radio morning shows since the format was put to use decades ago. But MJ's show will now run from 6-9 AM ET, meaning 5-8 AM CT in St. Louis. If you aren't an early riser and listen to the show on Z107.7, you might not even realize that the show is still on the air.
Another big change is the addition of more music. When the show first signed on in 1994, it played a fair amount of music, sometimes 3 to 4 songs in a row. Over time, the crew gradually scaled back on the music to a point in the mid-2000s when they played no songs at all. But that changed dramatically in October 2009 when they started playing more music, including even more by August 2010. A brief cutback to the songs in March 2011 made the show "more listenable," as MJ put it. But now there is more music than actual show content, which is frustrating for listeners who only tune in to hear the crew banter back and forth and do funny bits. An occasional song here and there mixes things up and brings some variety to a broadcast. However, when it overtakes the broadcast, it alters the whole dynamic of the show.
During the Aug. 16 show, there were already complaints coming in from listeners on their Facebook fan page, text wall and phone lines (which MJ hinted at). The main reason for the change is due to more research done by people in Clear Channel's corporate offices showing that listeners want to hear music in the morning, not talk. It will be interesting to see how long this music-intensive format will last and if there is more negative feedback about the new changes. For now, just be glad that the MJ Morning Show is still on the air - in some form.



What is MJ saying?
MJ evidently left his microphone on for a few extra seconds while a song started playing. It sounds like he says he is thirsty and asks if anyone in the studio has a new Coke. Listen for yourself.